Local campaigners challenge NHS cuts in court
Thursday, 3 May 2018
Local campaigner Jenny Shepherd is one of the claimants in the legal Judicial Review
Local people from the campaign group Calderdale and Kirklees 999 Call for the NHS joined almost 100 others from across the country at a rally outside Leeds High Court on Tuesday 24th April, to show their support for a legal challenge to a contentious new form of NHS contract.
This Accountable Care Organisation contract is designed to "manage demand" - which basically means restricting and denying health care to patients. This would undermine the core principle that the NHS provides comprehensive healthcare to everyone who has a clinical need for it.
At a rally outside the court, members of the public spoke about the risks to patients of severe cuts and changes to the NHS in their region, leading to hospital and GP closures, restricted access to care and threats to patient safety.
Jenny Shepherd, Chair of Calderdale and Kirklees 999 Call for the NHS and also a claimant in the Judicial Review as a member of national 999 Call for the NHS, said, "Our Judicial Review is not about some abstract legal point, it is about whether or not the NHS across West Yorkshire and the whole of England remains safe and fair for patients.
If this NHS contract goes ahead, it will be used by new neighbourhood and regional Accountable Care Organisations or Systems that are based on business and healthcare models imported from the USA's Medicare/Medicaid system. This only provides limited state-funded healthcare for patients who can't afford private health insurance.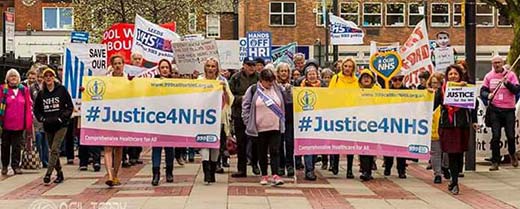 This massive, government-driven reorganisation of the NHS risks patient safety and is already making it impossible for patients to access the healthcare they need and are entitled to. This was the clear message from testimonies from members of the public and NHS staff at the rally outside court.
Calderdale Cabinet resolved in February to work with Calderdale NHS Commissioners in setting up a shadow Accountable Care System (re-branded as an Integrated Care System) from April 2018, with the plan to go live in June 2019.
As a Cabinet resolution, this has not been debated or voted on by Full Council. With the Council elections coming up on May 3rd, please ask all your Councillor Candidates if they oppose this or not.
West Yorkshire and Harrogate Sustainability and Transformation Partnership, which aims to cut £1bn NHS and social care spending by 2020/1 - the amount by which government is underfunding these vital public services, is talking about becoming a regional Accountable/Integrated Care System from June this year."
The day in court produced an indication that if the new Contract goes ahead, it would lead to a postcode lottery. NHS England's barrister defended the new contract on the grounds that its cost cutting nature would create a competitive advantage for Accountable Care Organisations that created new, efficient, cheaper forms of treatment.
But surely in a National Health Service, any beneficial innovation should be shared everywhere - not used to give a competitive advantage to one local or regional Accountable Care Organisation?
Jenny Shepherd added, "We have no truck with the 2012 Health & Social Care Act, - the current legislation that determines how NHS services are contracted and paid for. But the government has to abide by it or change it through Parliament. The government and its quangos can't pick and choose which bits of law they follow and find ways to avoid the bits they don't - that is not democracy".
The judge reserved judgement, as expected, but told the court that he would be as quick as possible as he recognised the urgency of the case.