Artsmill Exhibitions: Sturnidae and Julie Rose Clark
Wednesday, 9 May 2018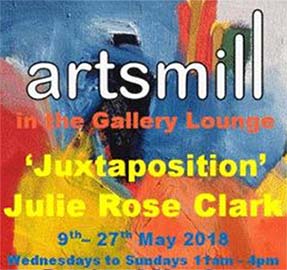 Sturnidae are David Ashby, Carine Brosse, Jacquie Denby, Chris Murray, Tony Stephenson & Philippa Troutman. We are a group of artist friends from North Yorkshire. We have been showing work together for many years. The way we work has become more about looking at art less as objects and more as a process. Art as a verb.
We are aiming for something fresh and exciting, that is arrived at through the making of the work. We don't want imagery to overtake it. We work collaboratively, which also influences the work, sharing ideas, skills and materials. We also employ techniques of sharing projects to stimulate ideas and create work that is common to the group and is less about ownership.
In 2016 we staged a collaborative and multi disciplinary show using disposable and recyclable materials. It was a very productive and challenging experience for all the artists involved. We are a multi media group of painters, collagists, sculptors and printmakers .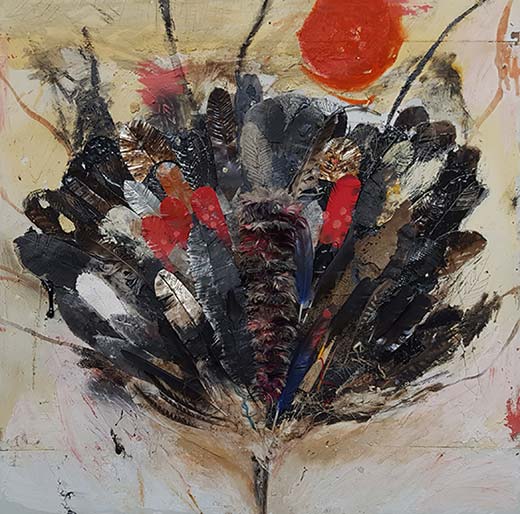 Julie Rose Clark - Gallery Lounge at Artsmill. 2pm - 4pm 
My exhibition works were painted in Hebden Bridge and Alentejo, Portugal. They are colourful paintings mainly in oil, featuring abstract and non abstract art. Painting has always been a passion since childhood and it is an activity that brings the artist a lot of peace. This collection has a variety of styles and approaches to painting. 

I'm primarily self taught apart from a year at Todmorden Art College (was part of Calderdale College) and several courses and classes at Northlight Art Studios, Artworks, Halifax, WEA etc. I have been painting since 1998/9. I prefer to work in oil paint due to the depth of colour and the slow speed at which the paint dries but I have also experimented with acrylics, printmaking and watercolour. At present I work from home and will be part of Hebden Bridge Open Studios in July. I used to have a studio at 59 Steps on Melbourne Street in Hebden Bridge.  Another exhibition is planned for June at The Art Cafe on Hangingroyd Road.
The exhibitions are on Wednesday 9th of May till May 27th at Artsmill, Hebden Bridge. Open 11am - 4pm Wednesday - Sunday.