Calderdale flood warden Trevor Bannister wins prestigious award
Thursday, 10 May 2018
Several organisations have paid tribute to Calderdale flood warden Trevor Bannister who was awarded the Calderdale Citizenship Award for his voluntary services following the Boxing Day 2015 Floods.
These include voluntary group Slow the Flow, Calderdale Council, the Environment Agency and a local MP who continue to be impressed by his boundless energy and dedication to helping protect his local community and the environment.
The scheme was organised by Calderdale Council and Trevor was presented with his award at a reception held at Halifax Town Hall.
Trevor said he was delighted to receive the award and that it was in recognition of all the support given by over 2,000 people to help the community recover after the flood event.
"The response from people who came from far and wide to help was absolutely amazing," said Trevor.
"It is everyone's award – it just happens to have my name on it."
Trevor will be taking part in a Calder Valley Flood Warden Network event on Wednesday 23 May at Hebden Bridge Town Hall set up to share best practice amongst volunteers - and to recruit more. The event, supported by the Environment Agency and Calderdale Council, will be open to flood wardens between 5 – 6.30pm and to members of the local community between 6.30 -8.30pm.
So far Trevor and the Calder Valley Clean Up team have inspired over 3,000 volunteers to take part in his work from all kinds of backgrounds, with ages ranging from five to 94 and  from as far afield as Edinburgh and Bristol.
Last year, the Environment Agency approached Trevor who was leading the Calder Valley Clean Up team and their partners at Calder Future to help develop a community led river stewardship programme in the valley. The aim has been to involve communities and volunteers in looking after their local river and taking part in volunteering activities such as debris removal from the river and its banks, habitat and vegetation management including helping to control invasive plant species such as Himalayan Balsam. These plants are damaging to local biodiversity by stopping native plants from growing and can cause increased riverbank erosion once they die back in the winter and leave bare soil.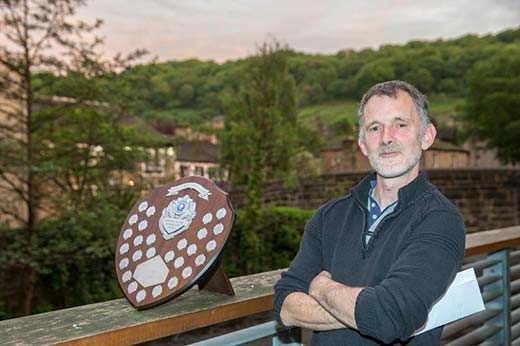 Last summer there were over 450 National Citizen Service volunteers, aged 16-18, from the Calder Valley who worked with Trevor to take part in river stewardship volunteering and learn about the work that is being done to improve the local environment. This river stewardship activity funded by the Environment Agency  is intended to help build a sustainable programme of work in the valley which has the community at its heart, to help reduce localised flood risk through 'little and often' maintenance. This can help improve river flows and prevent blockages in the channel. Trevor has been a central part in making this such a success.
Helen Batt, director for the Calderdale catchment for the Environment Agency, said, "The huge amount of work Trevor has done to help protect people and the environment in the Calder Valley is incredibly impressive.
"We are also grateful to him for taking on the role as a flood warden and how proactive he has been in helping others to develop their resilience in the event of future flood events. He has been heavily involved in writing flood plans for flood groups and supporting other volunteers." 
Halifax MP Holly Lynch said, "Trevor has worked tirelessly since that devastating flood event on Boxing Day, cleaning cellars, houses, gardens, and community spaces such as parks, river channels and roads. His work in the community has made a huge impact to individuals and community groups.
"This is all the more endearing as he lives in Halifax, not immediately in the flood zone and has travelled considerable distances to contribute to the recovery efforts."
The Mayor of Calderdale, Cllr Ferman Ali, who presented the award, said, "The Citizen Celebration Awards are all about recognising the work of local people who make a real difference in their communities. Trevor's volunteering efforts sum up the community spirit, grit and determination that make Calderdale such a special place, and which have played a major part in enabling our beautiful borough to bounce back after the 2015 floods."
Adrian Horton of Slow the Flow, said, "Trevor's energy and enthusiasm for helping others is unending and he is revered locally for the work he has done over the last two and a half years.  His name is synonymous with volunteering in Calderdale and he has inspired many others to get involved in volunteering activities."
Following the floods, hundreds of people across Calderdale were involved in a huge relief effort and Trevor took on the role of co-ordinating volunteers. When most people had returned to work in January 2016, the first project Trevor undertook was to clean up Brearley Fields, in Mytholmroyd.
As a result of the growing interest from volunteers, Trevor set up the Calder Valley Clean Up team to clear debris from the river and the river banks. The enthusiastic team was soon joined by many corporate teams from around the UK and they gained support from companies including Northern Rail, Halifax Bank, Tesco, Co-op, Scottish Widows, Argos and Lloyds Bank.  Over the summer 300 volunteers from the National Citizen Service also helped out with the work.
In July 2016 Trevor started more projects to help the local community and the environment affected by the floods. These included improvement to footpaths, developing an outdoor baby play area in Luddendenfoot, litter sweeps across the valley, repairs to the Civic Centre in LuddendenFoot, painting communal areas at Elphaborough Court, gardening and running errands for older people.
By the end of 2016, the Calder Valley Clean Up had cleared most of the flood affected areas of the river and river banks from Walsden all the way to Elland. His group has continued to unblock several hundred drains from Luddendenfoot all the way to Todmorden, as even though they are regularly cleaned as part of the Council's annual proactive maintenance programme they can still become blocked, causing surface water to pool on the roads and paths.
For more information about Calder Valley Clean Up or to get involved in their work contact Trevor Bannister on 07340 525294. If you are interested in becoming a flood warden or volunteer, please email.
See also
HebWeb Forum: Trevor Bannister (10 May 2018)
HebWeb News: Town Council - new mayor presents community awards (May 2017)
Short Look North clip of Trevor Bannister from 1 Nov 2016