Hope Chapel: Nonconformists Now
Wednesday, 16 May 2018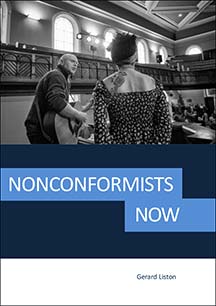 A Hebden Bridge chapel's book of photographs celebrates the Arts Festival's 'Nonconformism' theme
Publication of an online book about Hope Baptist Chapel in Hebden Bridge, West Yorkshire coincides with the launch of the town's annual Arts Festival, which has the theme of 'Nonconformism' this year.
Hope Chapel is one of dozens of nonconformist chapels built in the area during the 18th and 19th centuries and the book is a photographic record of the chapel's restoration, revival and its people over the past ten years.
Titled Nonconformists Now, the PDF of the book can be downloaded free:
With many of the old chapels now closed or converted, Hope Chapel has received an investment of over £1m, bringing the building back into original condition and making it useful to the town's residents and visitors.
One of the Hebden Bridge Arts Festival events features world-famous photographer Martin Parr talking about his book, The Non-Conformists which records life in the town during the mid-1970s, including declining life in many chapels.
Gerard Liston, author and photographer of Nonconformists Now told the HebWeb, "When I moved to the area ten years ago, we thought Hope Chapel was closed. But we found a small group of church members determined to keep the place open and relevant to the needs of the town.
"Founded in 1777, It continues to provide a place of worship and prayer, but the doors are open for music, spoken word and other events that also contribute to the emotional and spiritual wellbeing of our community."