Join the Revolutionaries heading to Hebden Bridge for Happy Valley Pride 2018
Sunday, 27 May 2018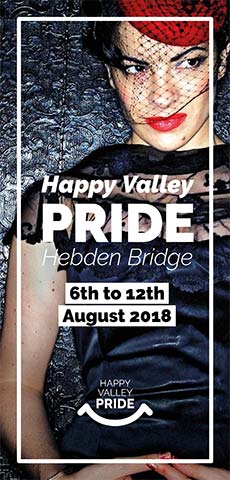 Happy Valley Pride is an eclectic, alternative and inclusive week-long festival for everyone. Celebrating LGBT+ life in Hebden Bridge and surrounding areas, taking place this year from 6th to 12th August 2018.
Now in its third year, the festival will be united by a Revolution theme with performances, art and outdoor entertainment.
A strong theme, with their best headliners yet, who have eagerly signed up to participate in the revolution, recognising the unique flavour of Happy Valley Pride's tone in a town that does things differently. The festival will provide world-class entertainment throughout the week bringing class acts and clubbing together. Headliners already booked to appear are:
Duckie - Legendary London Club Night @ The Trades Club,
Saturday 11th August
Whilst most club nights last a few years, Duckie has happened every week for 23 years. For the first time ever, the original Vauxhall veterans bring their rock'n'roll performance disco-bar to Yorkshire on Saturday 11 August to The Trades Club. Legendary DJ's, The London Reader's Wifes will be joined on stage by Happy Valley Pride favourites' Bourgeois & Maurice, drag artist Victoria Sin and comedian Barbara Brownskirt.
Camille O'Sullivan @ Hope Baptist Church,

Friday 10th August
Irish/French Camille O'Sullivan is now an internationally-renowned singer with a formidable reputation for her interpretations of the songs of Cave, Brel, Waits, Bowie, Cohen, Radiohead and more. She has stunned audiences around the world, including a ten-night, award-winning run of shows at Sydney Opera House; London's Royal Festival Hall; The Roundhouse. The Telegraph recently named Camille one of the top 25 performances of all time on the BBC's Later with Jools Holland BBC.
Ursula Martinez - Comedy and Performance Artist @ Hebden Bridge Little Theatre,

Thursday 9th August
An established international artist, regularly supported by the British Council, Ursula Martinez produces live performance, both solo and collaborative, for theatre, cabaret, site-specific, installation and nightclub. She will present her critically acclaimed show Free Admission which celebrates the inconsistencies and contradictions that make us human, whilst having a dig at some of the mess that is of our own making.
Art Exhibition
In addition, the annual art exhibition, will continue to be a key part of the festival running throughout August. Local artists are invited to help support the organisation, with donations of artwork, working on personal interpretations to align with this year's theme - Revolution. All forms of artwork will be considered, with consideration to the space limitations - artists must be willing to donate all proceeds generated by the sale to our not-for-profit organisation.
Newly-appointed Chair, Tim Whitehead told the HebWeb, "We believe Revolution gives a soul-stirring theme, which will fire up our festival visually, artistically and create comradery amongst our festival performers and supporters."
Tickets and full programme details to be announced in June 2018 via our website - www.happyvalleypride.com