Coiners' Path in Cragg Vale reopened
Thursday, 7 June 2018
Erringden Moor is well known as a place to lure unsuspecting walkers into the mire. Thanks to a generous donation by local benefactor, CROWS have installed boardwalks to cross the really boggy bits of the moor.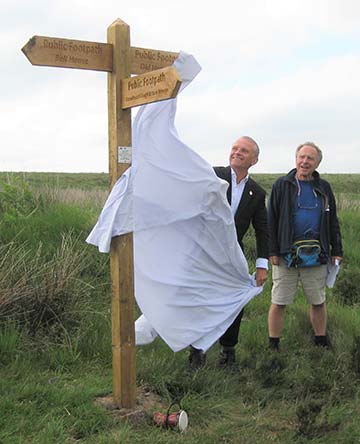 The new route was formally opened by Robin Tuddenham, chief executive of Calderdale on Wednesday 6th June.
A good crowd met on Erringden Moor with people walking up from Cragg Vale, Bell House and Horsehold.
Robin Tuddenham, chief executive of Calderdale Council thanked Mrs Julia Gray who funded the project. As a runner, he hopes he will be using the route in future events.

Richard Peters, secretary of CROWS thanked everyone who made the project feasible including all the runners, walkers and bikers who came up to transfer 400 pieces of timber, Calderdale Council Highways and Countryside Service and CROWS volunteers who put all the boardwalks together in record time.
The new finger post was unveiled by Robin Tuddenham and the event was ended by the Drifting CROWS - an impromptu local four piece singing group who sang "Over the Boardwalk" (apologies to the Drifters).
The (revised) lyrics and more photos of the event are on the CROWs blog.
After the event, Christopher Goddard led people across the moor - and the boardwalks – down to The Robin Hood in Cragg Vale to enjoy well-earned refreshments.
A good time was had by all.