Mytholmroyd Station Partnership: Fanfare for local Business
Tuesday, 19 June 2018
Fanfare for local Business is an area of youth engagement devised three years ago by the Mytholmroyd Station Partnership's creative group.
Each year one of the three local primary schools in the area visit a chosen local business; followed by an art workshop led by member - Annie Lawson, assisted by Brenda Greenwood, Jane Truscott and Sue Mitchell.
The resulting work created is displayed as colourful posters on the station and gateway to the village for twelve months, available for all to admire including friends and relatives of the school children.
Previous years, the young artists have been to other Mytholmroyd manufacturers - Calder Weaving and to Walkleys Clogs.
This year we arranged a visit by staff and pupils from Calder Primary School to Urban Cottage Industries; a progressive, employee co-owned UK manufacturer, designing and making innovative light products and based in a former trouser factory in Mytholmroyd.
Calder Primary School, recently relocated from Cragg Vale to Mytholmroyd, has appreciated this involvement with the Station Partnership and a local business which has helped the settling-in process. Friendships have been formed, including staff at Urban Cottages Industries as well as the Partnership members.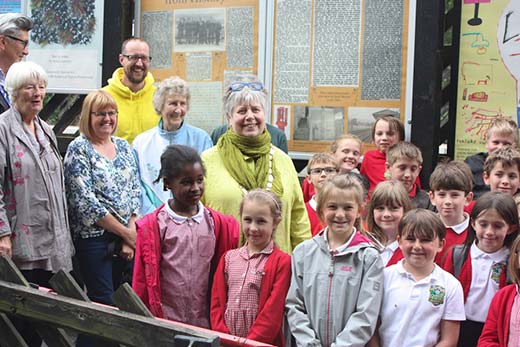 The celebration of 'Fanfare for Local Business' was led by the newly elected Hebden Royd Mayor, Cllr Dr Carol Stow who 'unveiled' the new artworks in front of invited guests together the youngsters, their proud parents, relatives and friends. The Mayor praised the objectives of the Partnership members to engage with the local community and youngsters in such projects that encourage the use and care of their village railway station.
The Station Partnership hopes to expand this involvement with the whole community when the old station building is renovated and becomes available for social use. Our present plans are for Railway Education sessions - for the schools and others in the village and Calderdale to encourage responsible and enjoyable travelling by train.
The Station Partnership enjoys the respect, support and encouragement from many outlets including Northern Rail, Association of Community Rail Partnerships, Network Rail, our local Town and Regional Councils, businesses and individuals which is a reflection of the goodwill of the community.
Thanks go to the Mayor and to Urban Cottage Industries directors Stan Wilson and Jonny Steel – with a special mention for Sue Mitchell who organised the whole event from the initial enquiries to the unveiling by the young artists - truly a great community project and outcome.
Mytholmroyd Station Partnership welcomes anyone who has an interest to improve the village railway station and surrounding area. There is not only the station garden to tend, but a variety of projects with the local community such as this Fanfare for Local Business.
Which lucky local business should we ask next year?