The King's Troupe - Shakespeare Without Borders 2018
Friday, 22 June 2018
Founded in 2010 and based in Hebden Bridge, The King's Troupe specialise in the performance of Shakespeare.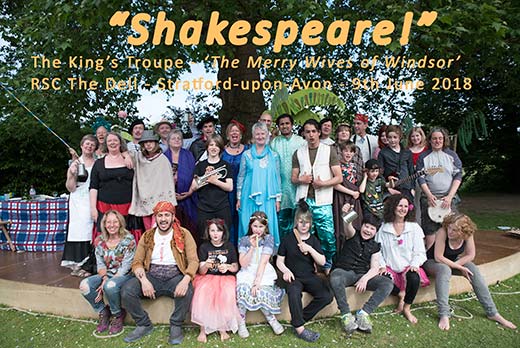 We have been performing together for almost 10 years and this year The King's Troupe with its company of 37 actors, musicians and performers (largest yet) performed Shakespeare's "The Merry Wives of Windsor", on the Dell outdoor stage at Stratford-on-Avon on the invitation of the Royal Shakespeare Company as part of their Dell programme.
This is now the company's 7th year of performing as part of this programme in Avonbank Gardens, which is within a stone's throw of Shakespeare's grave at Holy Trinity Church.
This year saw us on a newly constructed wooden stage closer to the river and with a tall plane tree as a great backdrop. However, we had our own palm tree which we made especially in place of what in the play is described as the 'Windsor Oak' in Windsor Park. We wanted to bring a more middle-eastern, cultural-diversity flavour given our friends from St Augustine's Centre, Halifax were performing with us.
Rehearsals
We consciously decided to have the main bulk of the rehearsal process at our Director's house welcoming people into the home and building a sense of community, rather than through using a more impersonal hired hall. This primary focus on building a sense of group cohesion, through playing, singing, music, theatre-making and sharing food together afterwards, resulted in better performances at Stratford.
Grants
We received a first grant from The Community Foundation for Calderdale under the Building Strong Communities and Social Inclusion fund category and this was very important to us. It meant we could have the process professionally filmed and to have a professional maker employed to help us create our props and set, both of which have proved really important for our development.
Support
The Himmat Project kindly lent us their mini-bus again for the trip to Stratford and Twiteys Tepees just outside the town very kindly lent us tents and sleeping bags. We rehearsed mostly outside at the back of our Director's house and was an especially effective process that continued all the way down to Stratford, where we all camped together in a beautiful meadow outside the town and where we cooked, sang, played music and told stories around campfires on both nights.
We are very grateful to all our friends, sponsors and funders who have made this project possible and also to all who came to our Eid celebration at our home following it. It was full of music, dancing and culminated in an amazing Bedouin story told by one of our St Augustine's friends. We plan to continue this hugely successful work, to perform at the town hall (see below) and to show the film locally in the near future when finished.
Performances
We did 2 performances on Saturday June 9th that were great fun and were well received by the audience and with a stage that could hardly fit us all in once when we came together for the bow at the end!
Next Performance: 'The Merry Wives of Windsor' by William Shakespeare, adapted by Mary Coaten
Where: Hebden Bridge Town Hall
When: Sunday July 15th 2018
Time: 6.30pm   
Length: 1hr 15mins    
Cost: Free
See also
See Facebook page: Shakespeare Without Borders
HebWeb News: The King's Troupe: Shakespeare without Borders (Aug 2016)
HebWeb News: The King's Troupe perform at Stratford (Aug 2014)
HebWeb News: The King's Troupe from Hebden Bridge to perform Troilus and Cressida as part of the RSC's Open Stages project (Dec 2013)
HebWeb News: Success for The King's Troup, Hebden drama group (May 2012)