Hepton Singers' concert will mark Alison's farewell as Musical Director
Monday, 2 July 2018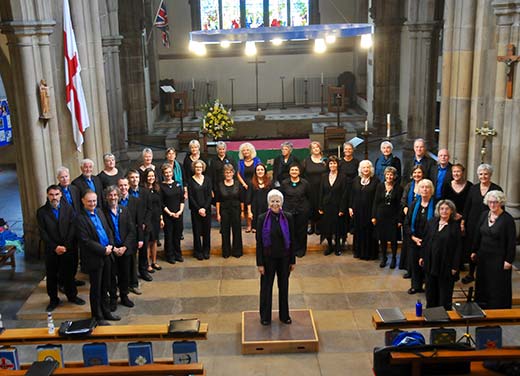 The Hepton Singers' summer concern, being held in Heptonstall church on Sunday 8th July (7.30pm), will be a particularly special one for the choir and for their current musical director, Alison West.  After thirty-three years with the chamber choir, first as a singer and then as MD, Alison has announced her decision to stand down from her role this summer. 
Under Alison's leadership the Hepton Singers have built up a considerable reputation for the accomplished way they tackle both renaissance music and challenging contemporary choral works, and their Heptonstall concert includes a fascinating selection of unaccompanied material written more than four hundred years apart.
Appropriately for the time year, there is a strong emphasis on celebrating the beauty of nature and the delights of the outdoors in the works from living composers.  The choir get their tongues around Scottish vowel sounds in Thea Musgrave's evocation of a mountain stream, Song of the Burn, while another Scottish composer James MacMillan is represented by his setting of Robert Burns' The Gallant Weaver ("while birds delight in leafy bowers… I love my gallant weaver"). 
There is a strong sense of the English countryside, too, in Howard Skempton's setting of the elegiac poem Sowing by Edward Thomas, a writer and poet who died on the Western Front just over a century ago. Thomas's sentiments are complemented by those of Northamptonshire rural poet John Clare in another work, It is the Evening Hour, in a subtle arrangement written by former Hepton Singers bass member Geoff Adams. Judith Weir, who holds the position of Master of the Queen's Music, is represented by her recent choral work Vertue.
However, the centre-piece of the selection of works by contemporary composers is the extended work Rehearsing the Languages of Birds, written by Alison West herself and being performed in Heptonstall in a newly revised version.  This work, using the words of a poem by Donald Atkinson, celebrates among other things the sounds of British birds – and the sounds of their Latin names.
By contrast, the choir has chosen to look in particular to Spain when it comes to renaissance music.  A little-known work by the sixteenth century composer Francisco Guerrero Ave Virgo Sanctissima will be performed, as will a short piece by his contemporary Tomás Luis de Victoria. A third work, Versa est in Luctum by their later compatriot José de Torres, offers a demonstration of the way Spanish religious music evolved over a period of more than a century. Works by British composers Thomas Tallis and Henry Purcell complete the selection of early music.
Alison West says, "I have allowed myself the indulgence of choosing some of my favourite choral works for this farewell concert, and I hope our audience enjoys them all as much as I do.  It has been a delight to lead the Hepton Singers as their musical director for so many years, and I leave with both happy memories and a heavy heart."  Alison West intends to devote more time among other things to her own compositions.
The choir has announced that Dorian Kelly will take over as musical director in the Autumn. Dorian is a professional musician and composer, based in Holmfirth.