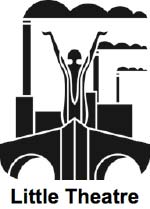 New Play Festival: Play Write!
Wednesday, 4 July 2018
There's going to be an exciting and unique event at Hebden Bridge Little Theatre, this July, when the theatre plays host to a new play Festival - Play Write! For two nights only, on Friday and Saturday, 20-21 July, the Little Theatre will present an evening of original drama, as the winners of the Little Theatre, one-act play competition are performed.
Tickets are £10, and can be bought via the Little Theatre website, or at the door (subject to availability). Doors open at 7pm, for a 7.30pm start.
The programme for the evening, consists of four short plays, receiving their world premières: Size Zero by Dave Payne, Stranger by Peter Bird, Kelsi and Sam by Amelia Stephenson, and Going Country by Theresa Sowerby.
The winning writers are from London, Staffordshire, Surrey and Todmorden, and have CVs that boast a range of creative work in theatre, TV, radio and publishing.
The Festival is the culmination of a long process that started last September, when the Little Theatre's first ever, play-writing competition was launched.
Budding playwrights were invited to submit original, one-act plays, no more than 30 minutes long, with a cast of six actors or less, and with simple staging requirements.
The theatre has never held a competition like this before, and didn't know what kind of response to expect. The Hebden Bridge and Todmorden area is a hot-bed of creative talent, and the Little Theatre hoped to harness some of this energy. As it turned out, the interest has been phenomenal, and over sixty, half-hour plays, were submitted, from near and far.
The plays have been read and judged by a panel of three independent judges, based in the local area, chosen for their knowledge and experience in the theatre: Eileen O'Brien, a well-known TV, stage and film actress; Freda Kelsall, playwright for TV and stage; and Alan Stockdill, actor, writer and director in his own company, Talking Stock Productions.
Once the finalists had been picked, Vaughan Leslie, the Festival coordinator, set about the task of finding the best actors and directors he could find to bring these new dramas to the stage. The plays are all now in rehearsal, and everyone is working hard to make the Festival a great success.
The judge's award for the overall winner of the competition will be announced on Saturday night, and the playwright will receive an engraved trophy. In addition, each night there will be a vote for the audience favourite, with the winner receiving a small prize.
The Festival is going to be something special. Come along, and enjoy a feast of new writing!
The Programme
Size Zero, directed by Ray Riches.
Claire, a young woman studying to be a marine biologist, lives with her mother, Gill. Claire has a severe eating disorder and is undergoing therapy, without success.
Gill is at her wits' end, seeing her daughter waste away, and not knowing how to help. Drastic measures may be needed.
Stranger, directed by Vaughan Leslie.
Someone mysterious has moved into the flat upstairs, and Dot and Mark are unsure what to make of it. She wants to welcome the newcomer, but he has his suspicions. The impact of the outsider on the couple's relationship can be seen as an allegory of our times.
Kelsi and Sam, directed by Jenny Gore.
A 21 year old woman, and a 41 year old man, meet up late at night on platform 11, Clapham Junction. During two further late night liaisons, this odd couple forms a modern romance. But will it just be a brief encounter?
Going Country, directed by Katrina Heath.
Joanna and Riggsy hang out with TJ. He's got his own place, inherited from his nan, and is never short of money. Then a 14 year old dies on the premises, and TJ is desperate for someone else to carry the can, so his drug-dealing activities don't come to light.