Bright Sari in a Darkened Street - Ian Emberson
Tuesday, 10 July 2018
Ian Emberson, who died four and a half years ago, was very well known as a writer and artist in the Upper Valley. He left behind much unpublished work. His wife Catherine Emberson has brought out a new novel by Ian: Bright Sari in a Darkened Street.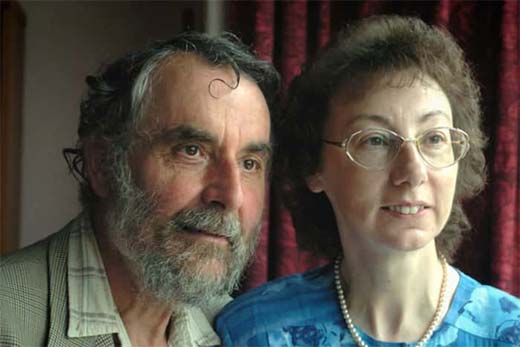 Bright Sari In a Darkened Street takes its title from an earlier poem and a chapter on Huddersfield's Hindu community in Yorkshire Lives And Landscapes, but this is prose fiction which adds a further dimension to his writing, much of the book set in winter but infused with a warmth his readership will recognise well. Catherine says she hopes publication of Bright Sari is a first step in the posthumous promotion of his legacy. Priced at £7.99, Bright Sari In A Darkened Street is available from Ian's website and bookshops.
Relationship crossing cultural divides
A former music librarian in Huddersfield, Ian took early retirement to concentrate on writing and painting. The book tells how aspiring artist Miles meets spirited and enchanting Kavita and is drawn into a teenage relationship that crosses cultural divides.
Other work
Moving to Todmorden after meeting his wife-to-be Catherine in 1988, Brontë Society life member Ian's published works include several volumes of poetry, novel-in-verse Pirouette of Earth, Pilgrims From Loneliness, which is a literary criticism of Charlotte Bronte still sold in the Haworth Parsonage bookshop, the e-book The Zig-Zag Path and evocative autobiographical Yorkshire Lives And Landscapes.
His play Cockerel Crowing Dawn, based on the life of composer Mussorgsky, was performed at Bradford Playhouse in 1996, and in a Dalesman article about Ian, broadcaster Ian McMillan wrote about how Emberson had encouraged younger writers including himself and Simon Armitage through poetry events he organised in Huddersfield when he was secretary of Kirklees Arts Council in the 1970s.
Comments on the book
Readers have already comments very positively about Ian's latest book:
"...its twin strengths are the character of Kavita herself and the mood-music of a snowy Pennine town. Kavita feels real, both passionate and witty, absorbed in her dancing and funny as a bright young woman would be. It helps this that one of the novel's more unobtrusive strengths is its evocation of her Hindu family and tradition..."  
Dr K E Smith
"...The writing is charming and has a lightness of touch that in its best moments is reminiscent of E.M.Forster. The Yorkshire landscape, centred around Huddersfield, is also a major character in the story and this is depicted deftly by Emberson's poetic imagery. A well-focussed and enjoyable read that contains wisdom and a lament for the tragic demise of innocence..."   
Poet Simon Fletcher
"...The title and cover of this intriguing and sensitively written book entices the reader in- you want to know more about the main characters Kavita and Miles.  It is obvious that the writer had an in depth knowledge and experience of painting and also a wonderful insight into the lives and customs of a Hindu community. The author has researched in depth and written about the Brontë family. Reading Bright Sari in a Darkened Street brought to my mind many comparisons between their lives and the lives of their characters and this book..."                                                                    
Howard
"...I absolutely loved it and read it in 24 hours as it comes into the 'I couldn't put it down' category'.  Interwoven in the story are philosophical nuggets, which illustrate and comment on the plot but never intrude. 
I recommend this book wholeheartedly..." 
SS
See also:
HebWeb News: Seaport at Sunrise: novel from local writer, Ian Emberson