The New Forty
Thursday, 19 July 2018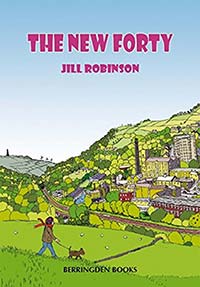 The New Forty is the fifth in the popular, locally-set Berringden Brow novels by Mytholmroyd writer Jill Robinson, and brings the entertaining series to a close. Since the publication of Berringden Brow: Memoirs of a Single Parent with a Crush in 2001, readers all over the world have followed the adventures of middle-aged every-woman heroine Jess and her struggles with kids, dogs, work, men, the neighbours, the recycling and the general trials of every-day life.
However, each of the five books sees single mother Jess facing up to fresh challenges, whether it be trying to get appropriate care and support for people in need to collecting the fascinating life histories of care-home residents and chaperoning a troupe of 46 Korean dancers at a folk festival.
Jess moves from running an advice centre in an area of deprivation to pet-sitting for a pair of fly-away peacocks to acting as a bus escort on trips from a Canary Island cruise ship, with all the various dilemmas thereby entailed.
When Jill submitted the first story to Pennine Pens she had no idea how the book would be received, and she has been delighted with the response her writing has evoked. Pennine Pens publisher Chris Ratcliffe, recalls that he was in his office and heard howls of laughter from the kitchen as his partner Elaine Connell read Jill's submission. "It was Elaine's laughter that clinched it,"said Chris.
Women especially love the stories, many taking the trouble to send her emails or cards, praising the writing and asking if maybe she has been spying on their lives, since so many of the situations recounted in the books strike a chord with others.
One woman sent a message saying that she had been living with depression for many years but that Jill's books had given her back her love of reading - surely one of the highest accolades any writer could wish for. Other women ask to be informed at once of any new books Jill is writing since they make ideal gifts for their mothers.
Literary talks
The Berringden Brow stories have seen Jill go from giving talks to local and more distant groups to appearing at literary festivals and being guest speaker on cruise ships the Black Watch and Marco Polo.
"There really is no knowing where writing will take you," says Jill, "But the best thing is meeting readers and listening to their comments."
The five books in the series follow Jess from a mid-life crisis in her forties to a busy retirement in her sixties. However, each book is self-contained and no previous knowledge is assumed, so that readers can enjoy the books in any order.
The Berringden Brow series of books:
Memoirs of a Single Parent with a Crush
Sons and Lodgers
A Place Like This
Life's Rich Tapestry
The New Forty
The Rainy Season
Jill has also written a poignant memoir of the 1960s, The Rainy Season, exploring the early life of heroine Jess in small-town Devonshire half a century ago, when Saturday girls at W.H.Smith were paid threepence an hour less than Saturday boys and her mother required a male guarantor simply to rent a television set, despite having a job.
The book formed the subject of Jill's recent talk at the Tiverton Grammar School reunion, when former pupils fondly recalled the cocker spaniel dogs kept in the cookery room, licking pupils' legs and presenting a tripping hazard in the days before health and safety, and the chemistry teacher's disastrous experiments necessitating the rapid evacuation of the class onto the cricket pitch. Boy prefects carrying six-inch rulers routinely obliged pretty girls to kneel down in order that they could measure the extent of thigh exposed by a too-short skirt, and no-one complained about sexual harassment, although Jill was uneasy about it at the time.
For many years, Jill contributed freelance pieces to The Guardian, and she also edited the problems page for the Calderdale News.
For further details of Jill's books, or to book a talk for a  group, please go to:
The Berringden Brow Facebook page, or
Contact Jill directly at jill@berringdenbrow.co.uk
Previously on the HebWeb
The Rainy Season by Jill Robinson - April 2016
New Berringden Brow book: A Place Like This - Aug 2009