Hebden Bridge Town Hall Rain Garden Planter Celebrations – a great party!
Tuesday, 24 July 2018
Slow the Flow Calderdale would like to say a huge thank you to everyone who has been involved in designing, building, funding, or coming along to the launch event for the rain garden planters at Hebden Bridge Town Hall. It was a fantastic team effort, and they had a great day for the launch event on Friday June 29th - with, ironically, not a drop of rain!
Planters slow the flow
The rain garden planters are part of a wider initiative to help us understand how urban Sustainable Drainage Systems (SuDS) can play a part in flood alleviation by slowing the flow of rainwater into the drainage system, thus reducing the potential for combined sewer flooding.
It is easy to feel complacent in this beautiful summer of hot, dry weather, but heavy rainfall now could easily result in surface water flooding, as hard, dry ground sheds water more easily into the drains.
If each household and business in the Calder Valley adopted just one of these SuDS measures, it could have a dramatic effect on the flood peak and surface water flooding during stormy weather. These methods are fairly cheap and easy to install at home, in work, in school or in public places.
Councillor Carol Stow, the Mayor of Hebden Royd Town Council, officially 'opened' the planters (with her ceremonial watering can, due to the lack of rain). Carol is a fervent supporter of Slow The Flow Calderdale's work, and they were grateful to her for agreeing to open this brand new and very important initiative which shows how we can all use water in different ways.
Mayor Carol Stow said, "I expected my mayoral year to bring new experiences but hadn't expected wielding a ceremonial watering can to be one of them! I was delighted to officially open these new planters for Slow the Flow, my mayoral charity. They are doing such amazing work up on our valley sides to help protect our community from the risk of flooding and now this new initiative for more urban environments means those of us living in the valley bottom can join in and help 'slow the flow' too!"
The very gifted young people from Calder Valley Youth Theatre and Hebden Bridge Junior Band provided an afternoon of excellent entertainment. The young talent we have in the Calder Valley is extraordinary and Slow The Flow Calderdale felt lucky to have them all perform – preserving our valley for future generations is one of the driving forces behind their Natural Flood Management work.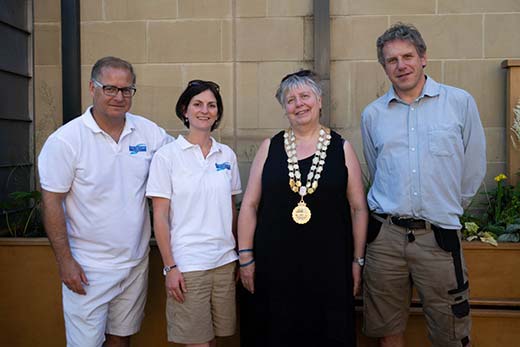 See the planters in the Town Hall courtyard.
The planters will remain in the courtyard at the Town Hall for the foreseeable future. Slow The Flow Calderdale will be monitoring them carefully, using a bespoke system to provide scientific evidence about just how much they help to slow the flow of storm water. In a rainfall event, water from the downpipes is taken through the soil/plants, before making its way more slowly back into the drainage system.
In heavy rainfall/flood events, many urban SuDS interventions can help to reduce flood levels. In particular, these types of systems can help to reduce the impact of overflow from Calderdale's combined surface and foul sewers. This reduces the risk of contaminated flood water entering our homes and rivers.
This project was developed and built in collaboration with a fantastic team, including the Calder Rivers Trust, Hebden Bridge Community Association, Green Future Building, 2B Landscape Consultancy Ltd, Calder Valley Clean Up, The Basement Project - and kindly funded by the Postcode Local Trust.
These planters now feature on Slow The Flow Calderdale's new 'case studies' page on their website.
If you have developed a similar project and you would like to share it as a case study, please tell us here
For inspiration on the many ways to help slow the flow in urban areas using SuDS, please visit the 'You Can Slow The Flow' pages.