The Northlight Art Education Phenomenon: Ten Years Old and still Growing!
Wednesday, 15 August 2018
It's now ten years since the Northlight Art Studios cooperative ran its first art class.  'The Back Door' project as it was then called was started very much as a response to the diminishing adult education opportunities in the area and particularly with the demise of Todmorden College.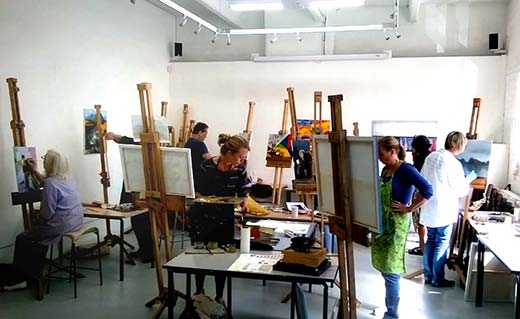 Hotbed of creativity
What has happened in the subsequent ten years has been a remarkable story of dedication and vision to make this hotbed of creativity into a much loved local education facility for the whole Upper Calder Valley community.
Origins
Several of Northlight's resident artists were experienced teachers and lecturers, so the idea of offering classes to the community was a natural development for the studios.  With some small pilot grants from Arts Council England and Hebden Royd Town Council, the project got underway with six courses and a range of day and weekend workshops. 
A rare model of engagement with the visual arts and crafts
These classes proved very popular and the project grew rapidly, increasing its offer every year.  Northlight Art Education is now promoting its Autumn term programme with 20 regular weekly courses as well as Young Northlight kid's sessions exciting day workshops, exhibitions and artists talks. With over 700 enrolments last year, Northlight now represents a rare model of engagement with the visual arts and crafts – from those just starting out on their creative journey to professional working artists.
Northlight now has a fantastic team of tutors who are all practising artists and experts in their field. Creativity is at the heart of all planning and delivery of courses.
Art for the Terrified
Featured in the Autumn programme are new and exciting opportunities.  There's a new 'Absolute Beginners' Art for the Terrified class, building on the success of art for the Terrified classes over the years.  Here new starters can gain confidence in a broad range of painting, drawing and mixed media approaches.
The new term
Also featured is the innovative 'Art of Textiles' course and a class devoted to landscape painting. Northlight painting courses now cover the spectrum of approaches - figuration, abstraction, oils, acrylics and watercolour.
Ceramics
The last ten years have seen major developments. The introduction of Ceramics has been a hugely popular with all four weekly sessions now fully booked.  Ceramics artist Katch Skinner is now receiving national acclaim for her highly individual work and as with all Northlight tutors, she is passionate about sharing her knowledge.
Expansion
Three years ago Northlight expanded into an adjacent unit to their Valley Road premises.  Formally a Chapel of Rest, the Northlight Art Education team has breathed new life into this section of the building! 'Northlight Artspace' now provides a high quality flexible teaching and exhibition space enabling the cooperative to extend its range of classes, host exciting exhibitions, talks and events.
The new space has also created a kitchen, superb art library and relaxation area for its many users.
So now Northlight are looking forward to the next ten years! Watch that space!
Autumn classes
Autumn courses are now open for booking and there are still plenty of places left on several courses. 
Education Coordinator Don Myers will be hosting two finding out /enrolment sessions on Saturday, 8th September, 1.30-4pm and Wednesday, 12th September, 6 – 8.30pm where you can find out more and book your place. 
Full details of Northlight's Autumn programme can be found at www.northlightstudio.co.uk.