Artsmill Exhibition: Nic Chapman's Common Collection
Friday, 24 August 2018
Preview of Common Collection is at Artsmill 2pm - 4pm this Sunday 26th August. The exhibition runs till 2 September.
'Nic Chapman is a collector, an obsessive collector of people, She collects people who like the same things, do the same things and sometimes look the same.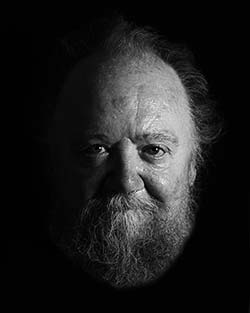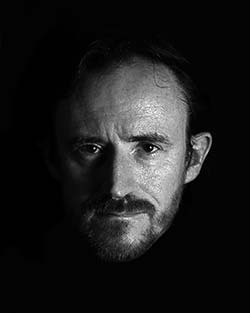 "I began photographing Common Collection in May 2017 as I wanted to document Artists and Creatives in the area I live. I am inspired by the amount of creative people who are native to the area and also those who have moved here. They are everywhere. Knowing I couldn't collect them all, I decided to collect as many as I could and create a portrait, photographing them in the same way, putting them all in the same position with the same light and giving them no direction as to let their personalities come through in the photo.
"Thirteen years ago I started a similar project which to this day is incomplete. I noticed how a small amount of water on peoples faces enhanced features, their eyes mostly, and magnified tiny parts of their skin. It was a simple idea which I photographed on 35mm film. I liked the way it looked and enjoyed capturing my subjects' reaction to the water. I decided to start the series again, but more focused, so brought two ideas into one and dampened all my creative people before photographing them.
"The people in my Photographs have in common the need to create, to make things, sounds, pictures, films, movement and words. I wanted to reflect the impact the creativity of these people have on me in my work, so collected them in one imposing Portrait.
"Something I noticed, during working on the portrait, that my subjects rarely asked why. They didn't need to know why I wet their faces. They just knew I was putting them in my collection, that they were contributing to someone else's idea, someone they had something in common with.' Nic Chapman."
Photographer, Nic Chapman began looking through her Grandad's photographs and slides when she was a child. She remembered there being boxes and boxes of them and being told stories about how he would make his family stand posing for ages while he got the shot right. His Photographs were wonderful and she loved them. "I think this is where my love for Photography started."
She continued, "The Photographer in me can't help but take pictures, watch people and super appreciate light. I can't think of a day when I am not planning what I am going to do next. I am obsessed by faces, groups of people and, basically, things I find interesting.
"I am currently working on around six collections of Photographs, mostly based around documenting people and the things they have in common. My work is never finished. I find it quite difficult to bring something to an end. Like most Photographers, I say 'just one more' by which I mean at least fifty."
"Alongside my personal work I run a small Photography studio where I do more commercial work. While I like working with people, I like it when I get an exciting brief and I can do something I haven't before.
Exhibiting work is what I want to do, but at the same time I get quite nervous. I am allowing other people to open my eyes and see what I see.
"I will always take photographs as it is what I love. It's not a choice. It's just part of me."