Wednesday, 12 September 2018
Wainsgate Concert:
Acceso String Quartet
Sunday 16 September, Wainsgate Chapel, 3pm
There are just three concerts to go in this 2018 Wainsgate Chapel Summer series which has seen a considerable increase in audience numbers from previous years. The first of these concerts is coming up this Sunday September 16th when the talented and delightful Acceso String Quartet will be performing Quartets by Haydn (Op 33 no 2), Shostakovich (no. 8), and Dvorak (his 'American' Quartet).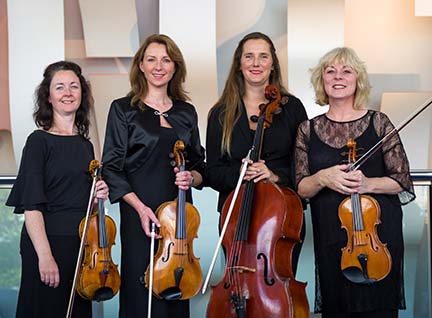 The Acceso Quartet comprises virtuoso violin players Alexandra Stemp and (Calder Valley-based) Susan Voss alongside the equally brilliant Jayne Coyle on viola and Esther Harriot on cello. All four players are freelance performers with some of the UK's best loved orchestras including the Northern Chamber Orchestra, BBC Philharmonic, the Hallé, the BBC National Orchestra of Wales, the Royal Liverpool Philharmonic Orchestra and the Manchester Camerata.
"There's clearly quite a demand for Classical music in the area", said Wainsgate concert organiser Dave Nelson. "We had a huge crowd for a cello and guitar recital in June, and whilst chamber music perhaps isn't for everyone, it's guaranteed to sound absolutely gorgeous in the near-perfect acoustic of the Chapel."
The Acceso Quartet will be performing at the usual time of 3pm. Tickets, which are only available at the door, cost £10 and £8 with a special ticket price of £3 for under-18s. The remaining concerts in the Wainsgate season are on September 30th with virtuoso classical percussionist Joe Richards, and then on October 7th To the End of War celebrates 100 years since the signing of the Armistice with songs of peace, love and understanding from five choirs…three from the north of England and two from the north of Germany.
There is more information to be found at www.wainsgate.co.uk