Calderdale TUC to Commemorate Anti-Fascist Heroes who fought in Spanish Civil War
Monday, 24 September 2018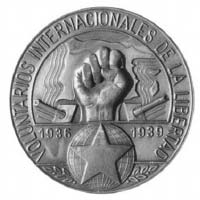 Calderdale Trades Council is organising an exhibition at Halifax Central Library and a commemoration event to remember the anti-fascist heroes who fought in the Spanish Civil War (1936-1939).
On Saturday 6 October, we will assemble at the memorial bench to Halifax's Ralph Fox who was killed in Spain on 28 December 1936. Jim Jump, Secretary of the International Brigades Memorial Trust and Calderdale Trades Council Assistant Secretary Helen Roberts have agreed to speak. The event will take place at 11am in Manor Heath Walled Garden, Manor Heath Road, Halifax, HX3 0EB. Members of the public are welcome to attend this event.
The International Brigade exhibition will be on display from Thursday October 4 – Thursday October 11 at Central Library & Archives, Halifax, HX1 1QG. Both the exhibition and the commemoration event will be an opportunity to find out more about the brave men and women who fought against fascism in the Spanish Civil War.
Calderdale Trades Council assistant secretary Helen Roberts said, "One of Calderdale Trades Council's objectives is to play a leading role in anti-fascist and anti-racist activity in our area.
"The International Brigade Memorial Trust (IBMT) keeps alive the memory and spirit of the 2,500 men and women from Britain and Ireland who volunteered to defend democracy and fight fascism during the Spanish Civil War of 1936-39.

"The Trades Council is grateful to the IBMT and Calderdale Council for their support in organising this commemoration and exhibition.

"While we remember the International Brigades, racism and fascism still need to be combatted today. Calderdale Trades Council will be supporting the Stand Up To Racism, Unite Against Fascism and Love Music Hate Racism national unity demonstration against the fascist and racist right in London on Saturday 17 November."