Calling Mr Robeson at the Trades Club
Sunday, 7 October 2018
The life and time of legendary singer and political activist Paul Robeson will be brought to life in a new show coming to Hebden Bridge Trades Club on Sunday 21st October.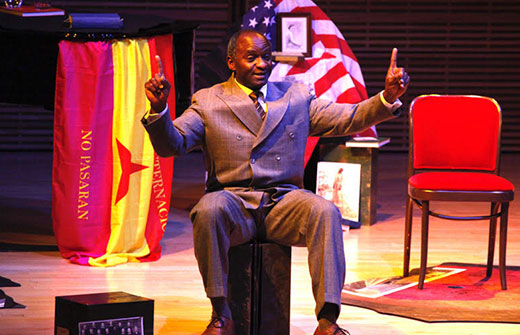 Calling Mr Robeson is performed by Tayo Alunk with live piano accompaniment and looks back at the turbulent career of one of the 20th Century's most impressive but overlooked figures - not only a world-famous actor, singer but also an outspoken civil rights campaigner.
When Paul Robeson gets too radical and outspoken for the establishment's liking, he is branded a traitor to his country, is harassed, and denied opportunities to perform or travel.
This roller-coaster journey through Robeson's remarkable life highlights how his pioneering and heroic political activism led many to describe him as the forerunner of the civil rights movement.
It features Tayo singing some of some famous songs including a dramatic rendition of Ol' Man River, recreating is most famous speeches and his spectacularly defiant testimony to the US Senate's House Un-American Activities Committee.
Calling Mr Robeson has been performed at New York's Carnegie Hall and in the West End.
Trades Club Entertainment Manager Mal Campbell said, "We decided to put on this award winning show because the life and times of a brave man like Paul Robeson fits in perfectly with our values of standing up for equality and opposing oppression. Tayo is a fantastic performer who not only brings this mighty singer to life but also shows how Robeson's refusal to be quiet came at huge personal and professional cost."
Tickets for Calling Mr Robeson are available from thetradeclub.com