Mytholmroyd flood protection scheme - latest
Tuesday, 9 October 2018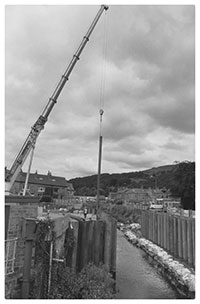 Progress with work to protect local people and businesses from flooding will be discussed by Calderdale Council's Flooding Scrutiny Panel tomorrow (Wednesday 10 October, 6pm at Mytholmroyd Community Centre).
Topics up for discussion include the Mytholmroyd Flood Alleviation Scheme, which was developed in partnership with Calderdale Council, the local community and partner organisations like the Environment Agency to help provide better protection for local people and businesses.
Photo: Bruce Cutts
Work on the Scheme is in full swing and it's due for completion in winter 2019/20. The Panel will discuss the work that has already been carried out, the next steps and the traffic management which is needed throughout the delivery of the Scheme, looking to take forward the lessons learned to make it as effective as possible.
The Panel represents the interests of local people about important issues that affect them. It looks at the impacts of the decisions, policies and services of the Council and other key public organisations. The Panel does not make decisions, but can make recommendations to decision-makers.
St Michael's Church
River widening has commenced with approximately 1,000 tons of material excavated and removed so far. Exposed steel sheet piles are being prepared for future stone cladding.
We have exposed the existing stone setts on the river bed and we are preparing to fill the gap between the existing and new piles with new setts to maintain the river bed.
The temporary works and timber protection to the church vestry is now in place for the continuation of piling and concrete works.
We are currently constructing the temporary platform for the piling rig to install concrete piles adjacent to the church.
Cragg Brook
Reinstatement of the car park to Shoulder of Mutton Public House has commenced with existing surfacing removed and installation of new kerbs to form the boundary of the new car park. The area between the new kerbs and new river wall will be completed using a mixture of hard and soft landscaping.
Caldene Bridge
The piling rig to install the concrete piles for the centre bridge abutment is due to be delivered shortly.
Work to create a diversionary carriageway is underway to allow for the bridge foundations to be constructed. This will enable 2 way traffic on Caldene Avenue to be maintained.