Hebden Bridge Writer wins Outdoor Book of the Year award
Tuesday, 16 October 2018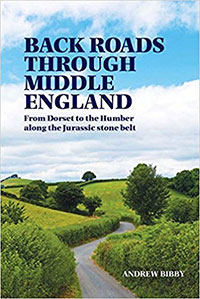 Andrew Bibby's captivating insight into southern English landscapes, Back Roads through Middle England (Gritstone Publishing, £13.95), has won the Outdoor Book of the Year award.
The award was announced on Saturday October 13, at the Outdoor Writers and Photographers Guild awards ceremony.
Andrew Bibby, who is an experienced professional writer who has contributed over many years to the British national press, has written several highly commended books on the countryside and the outdoors. His latest book delves deep into the landscapes of 'middle England', the book using the device of a journey he made by bicycle along the belt of Jurassic limestone (sometimes described as cotswold stone) from west Dorset to north Lincolnshire.
In the process of his journey, Bibby turns to a wide range of disciplines, including social history, economics, and literature, to help him try to understand why the countryside looks the way it does. 
Among other things, his book discusses how the countryside today is shaped by land ownership and estate management, and by changing nature of agricultural subsidies. Bibby looks at the efforts taken by residents in villages along his route to maintain community life in rural areas, and at conflicting responses that are emerging to the call for more housing in greenbelt areas. He suggests that the southern English countryside is at the same time both an old landscape and one which has seen radical change in relatively recent times. 
Andrew Bibby says, "I am naturally delighted that Back Roads through Middle England has been awarded this year's prize as Outdoor Book of the Year. This is a particular honour for me, because the award is made by my peers, fellow outdoor writers and photographers who understand the countryside and who care deeply about it.
"At a time when Englishness and English identity is increasingly an uncertain affair, my book looks for the clues that I believe are to be found in both the past and the present state of the English countryside to help us understand where we are today."
Back Roads through Middle England is distributed to the trade through Cordee (www.cordee.co.uk).  Review copies are available to journalists from info@gritstone.coop.