Hebden Bridge Choir to support Overgate with concert in Stainland
Monday, 5 November 2018
One of Calderdale's most highly regarded chamber choirs the Hepton Singers will be crossing the hills from its Hebden Bridge base on Saturday 17th November to stage a charity concert in Stainland in aid of Overgate Hospice.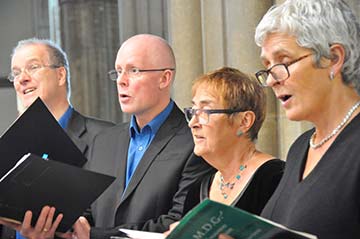 The Hepton Singers will be performing a mixture of early and contemporary choral music in the beautiful setting of the 18th century church of St Andrew. Admission will be free, but a collection will be taken for the work of Overgate, Calderdale's hospice in Elland. The concert starts at 7pm.
The concert programme should have plenty to appeal to all tastes. The concert's title In this place I am made new is taken from a short piece by the contemporary British composer Will Todd, originally written to be performed in Durham Cathedral. 
Other living composers, including the Estonian Arvo Pärt, the Norwegian Ola Gjeilo, and the US-based Morten Lauridsen and Eric Whitacre are featured in the programme. Twentieth and twenty-first century British composers are represented by John Tavener, Gerald Finzi and Tarik O'Regan. 
The Heptons will also be offering a choice selection of music from very much earlier in the choral tradition. Works by Thomas Tallis (1505-1585), William Byrd (1543-1623) and Henry Purcell (1659-1695) all feature in the programme.
New musical director
As well as representing the Heptons' first performance in Stainland, the concert also marks the first time the choir will be led by its new Musical Director Dorian Kelly. 
Dorian Kelly, Musical Director, said, "We are excited at this opportunity of taking our music to a new audience elsewhere in Calderdale, and are particularly pleased to be able to make the Stainland event a fundraiser for Overgate Hospice. The Hepton Singers has established a considerable reputation for its willingness to tackle sometimes challenging new choral works, and our programme will demonstrate the wide variety of material being written for choirs today. What's remarkable is how well present-day music mixes perfectly with baroque and renaissance music from four or more centuries ago."
The Hepton Singers will be back in their usual Heptonstall base on Saturday 1st December, when they will be repeating the programme for their home audience. Admission to the concert in Heptonstall church, which begins at 7.30pm, is by ticket available from the choir's website, or on the door.