Artsmill Exhibitions: Anna Gibson and Stella Hill
Thursday, 22 November 2018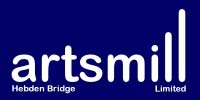 Artsmill, Linden Road Hebden Bridge
28 November - 16 December
Open Weds-Sun 11-4
Preview: Sunday, 25 Nov, 2-4pm
The latest exhibitions at Artsmill start this Sunday featuring 2 local artists.
Artist/Painter, Anna Gibson is showing her work in 'The David Wright Gallery' at Artsmill. Anna studied and trained in Hand-Ceramics and her degree was in Multidisciplinary Design at North Staffordshire Polytechnic.
"My area of study became hand-built and raku fired vessels which, once I left college, I sold in galleries and shops in Hertfordshire and Essex. As time marched on and relocation to various parts of the country became the norm, setting up a pottery with each house move was impractical. And then the three lovely children!"
Anna has developed and evolved her creative practice since then and now creates her art in a very different way. On describing her process she states, "I often start with a sketch from my sketchbook in the time honoured way. Sometimes the colours or form in say an advertisement or a photograph might grab my attention and I might use the colours or the structure in a very inexact manner to make a landscape.
"Generally, texture might be added to work by adding collaged scraps of printed material or fabric. I often use one painting to feed into the next, using the form or the colour or the composition and treating the whole in a slightly different way."
The Exhibition is called 'Of Place' Anna says her work is about Light and Structure in everything she does. "I am not interested in trying to achieve photographic accuracy. What excites me is trying to capture glimpses of forms and lines that emerge in and out of my frame."
Local Artist and Gallery owner of Legacy Arts, Stella Hill is also showing a body of her work in the Gallery Lounge, at Artsmill. "I like to explore many subjects and mediums. I like working with oil paint and acrylics and have enjoyed mixing many mediums such as collage and pastels to create a 3d effect on some pieces."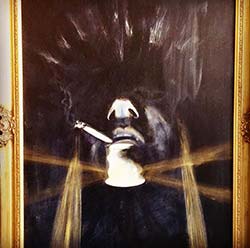 A lot of Stella's work has been inspired by her environments and emotions. "This body of work represents feelings of love, death, memories and seasonal changes. "I have also included some whimsical imagery which characterises attitude and childhood memories."
You can find Anna's work at The David Wright Gallery and Stella Hill's work in the Gallery Lounge at Artsmill till December 16th. Preview is this Sunday 25th of December 2pm - 4pm. Perfect Christmas presents for loved ones and for yourself.
To find out about the Artists and the exhibitions/classes at Artsmill, Hebden Bridge go to