Sunday, 25 November 2018

Friday 30 November and Saturday 1 December
Square Chapel Arts Centre, Halifax

Manchester-based award-winning theatre and performance company Quarantine brings Wallflower to Square Chapel Arts Centre, Halifax on Friday 30 November and Saturday 1 December as part of the Look Closer festival.
Wallflower is a marathon of dance and memory. It's a game that alters according to the players.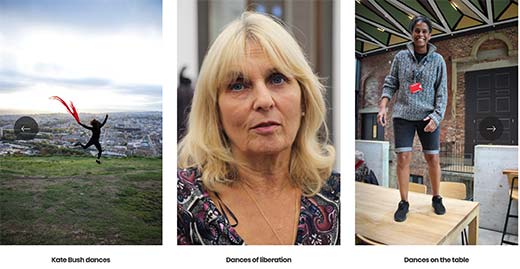 Wallflower director, Hebden Bridge's Richard Gregory, says, "These are live self-portraits. It's an ongoing process of tangling and untangling personal histories. As we look at the portrait of another, we might also somehow see ourselves. I'm drawn to the difference between what we think we're showing and how we're being seen. Dance appears to be a potent way to do this – it's familiar to us all, whether we choose to sit on the sidelines or jump right in…"
The people on stage in Wallflower are trying to remember every dance they've ever danced. Some of them are professional dancers, some are not. Some might tell you that they can't dance at all.
There are memories of dancing alone all night at a party; of whirling across the stage at the Paris Opera Ballet; of silently, slowly revolving with a new lover on a canal boat at night; of a repeated tic - a bodily habit that feels like dancing; of walking alongside their mother; of racing with a dog across a beach; of dizzily spinning children; of weeping and dancing; of hitting the mark for Anne Teresa De Keersmaeker....
Every dance is added to an ever-expanding archive, a vast record of hundreds of memories exhibited alongside the performance that begins with dances from early rehearsals and always ends with the last dance...
On stage is a DJ, a disco-ball and a single chair. A performer sits in the audience, documenting every memory. To date over 2,000 dances have been recorded.
Spanning a lifetime of music, fashion, politics, friendships, parties, love and loss, Wallflower is a show about how dancing can shape our lives.
Quarantine have been in our area this month asking local residents to share their remembered dances. Records of these dances have been collected on a dedicated website – alongside remembered dances from across the UK – and will be displayed at Square Chapel Arts Centre for those attending the performances.
View the remembered dances Quarantine has collected across the UK, here: www.wallflowerdances.com
Friday 30 November and Saturday 1 December
Square Chapel Arts Centre, Halifax