Tuesday, 4 December 2018
Christmas Lunchtime Live
Saturday 8 December
1-4pm Pay as you feel
Hope Baptist Church
Come along and celebrate our Christmas Lunchtime Live this Saturday 8th December. This is Lunchtime Live's 13th event at Hope Baptist Chapel, and it has brought so much joy to the community of all ages.
Every month people who don't normally socialise together spend an afternoon watching and listening to some outstanding performances from spoken word artists, choirs, bands and singer songwriters. There is a selection for everyone.
Lunchtime Live also gives an opportunity for younger performers from the community to shine and Isaac Hughes-Dennis is a rising star who has just released his album Welcome to the Revolution last month.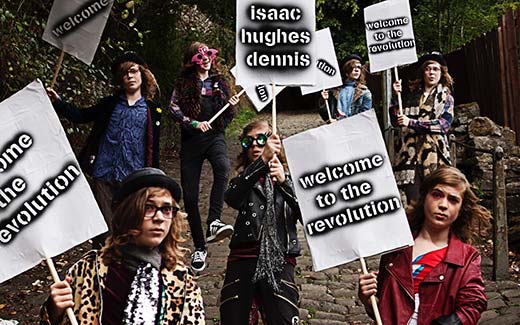 Isaac says, "This is a nine-track disc with songs of political and social statements, some arguably of more importance in the world than others. Nonetheless, these songs dip into my personality, views, thought process and general way of life. I like to think of it as a brief synopsis of my persona. The majority of songs on the album serve a humorous purpose, to act as a form of subtle activism. With my style of comedy, it is essential to listen carefully to each word and lyric, and thus doing so you are not only taking in all the gags and catches, but you are simultaneously being seduced and subliminally fed left-wing propaganda. This is how I hope to convert Britain's politics entirely, through the use of a ukulele, an electric kazoo and a whole lot of synthesised instruments on a cheap Casio keyboard."
Isaac is also co-hosting the afternoon with the wonderful Sarah Courtney.
Hebden Bridge based performer, Magdalen Bath has also got an album to promote which she has produced herself. She has been performing live for several years and released her debut EP of 5 tracks, recorded at her family home in Hebden Bridge, back in June. She has since released two more singles and continues to work on new music. She has been compared to the likes of Lana del Rey, Charli XcX and Grimes and draws influence from a wide range of genres from 80s pop to current trap music to create her own distinctive sound.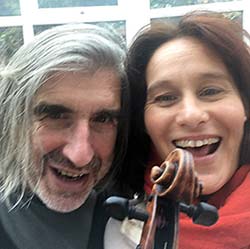 Stephen Shulman's Jazz Quartet is going to provide you with all the festive fun and laughter you will need to start off your Christmas season. Providing us with some beautiful jazz standards as well as the more well known festive numbers.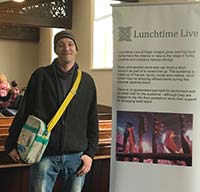 Well known spoken word poet, Socs Blakely makes his return back onto the Lunchtime Live stage to read out his poem about Christmas. This legendary poem was written especially for The Factoryline's Alternative Christmas Party at Hope Baptist Chapel back in 2015 and certainly made an impact there, so it is only fair it makes another appearance this Christmas.
Socs will be sharing a few of his favourite poems and prose too.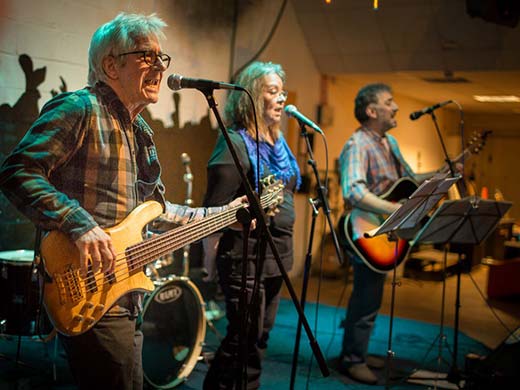 After an 8 year hiatus, RockSalt Acoustic was re-launched in December 2017. Rocksalt Acoustic are Siân Levy (vocals), Tony Levy (guitar & vocals), Laurie Reader (bass & vocals) Tony Levy Says "All of us also perform in other musical entities and have each been gigging for several decades. We provide an eclectic mix of quality acoustic music with (up to) 3 part vocal harmonies, performing a few covers and some originals. We are looking forward to performing at this wonderful Christmas Lunchtime Live even, here in Hebden Bridge."
A big Thank You to all the Lunchtime Live Team who are all volunteers to make this event happen for the community.