Great Rock Co-op
Christmas Market
Tuesday, 4 December 2018
8, 15, and 22 Dec from 10am – 2pm
Staups Lea Farm, Higher Eastwood, OL14 8RR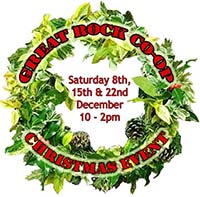 Blackshawhead's community owned shop, a hub for all things produced in the Upper Valley, is looking forward to keeping Christmas local this year. Stocking locally produced meat, poultry, cheese, baked goods, preserves, vegetables, Great Rock Co-op can supply an entire Christmas dinner grown on the hillside – not to mention a wonderful range of artworks and craft items to fulfil all your gift needs.
Ethical and sustainable

If you are looking for ways to make your festive season more ethical and sustainable this year then look no further. The tastiest, happiest turkeys and chickens grown in Yorkshire from Loose Birds are available to order and the shop will have its usual wide range beef, pork and lamb from very local farms: Burnt Edge, Stiperden, Long Causeway, and Daisy Bank. 
Veggies and vegans

Veggies and vegans are, of course, catered for too and the super-ethical can buy Zaytoun's almonds and olive oil for their festive roast. They might not be local (have you tried growing almonds in Calderdale?) but you can have the satisfaction of knowing you are providing valuable support to the Palestinian farmers whose West Bank smallholdings are under systematic bombardment by the Israeli military. 

Add some fresh, in-season veg from Field Head Farm, a pudding made in the village, and some Just Jenny's ice-cream to round off a perfect xmas dinner. Take care of your lunch needs with award-winning cheeses from Pextenement Farm paired with Pennine Preserves and Bakehouse bread. 
Reduce your plastic use and cut out palm oil

Trying to reduce your plastic use and cut out palm oil? Field Head Farm will have bee's wax food wraps on sale along with their palm oil-free range of soaps, body butters, and lip balms which proved popular last year.

Local artists and craftspeople who will be showcasing their creativity at Great Rock's three Festive fairs on the Saturday's between now and Christmas. include potter Gary Thomas, photographer Tessa Kerr, felt artist Jo Gornall, print-maker Helen Lacey, jewellery-maker Irene Vince, sculptor Fran Armstrong and exciting up-and-coming artists from Hebden Bridge's NOVA collective will have their work on sale.

There will be mulled wine, hot and cold food from our pop-up café and lots of great activities for the kids while you browse and shop. The shop is open on 8, 15, and 22 December from 10am – 2pm. It is located at Staups Lea Farm, Higher Eastwood, OL14 8RR – just around the corner from the Great Rock!