Wednesday, 5 December 2018
Win tickets for Kirsty Almeida Wintersongs gig at the Trades
Sunday 16 December, Trades Club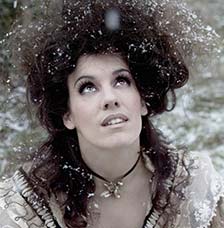 Since moving to Hebden Bridge singer /songwriter Kirsty Almeida has found her new home has been an inspiration to write new material. She has settled in Slack where the rustic environment is helping Kirsty prepare for her now traditional festive show Wintersongs at the Trades Club on Sunday 16 December.
"I love seeing all the birds of prey, meeting all sort of crazy new wonderful creatures like guinea fowl and seeing all these amazing feathers everywhere," says Kirsty.
"Even if it is just how I look at my everyday life in a new way as I wake up every morning, and look outside at the most breathtaking views, so it's like being on holiday, or at a creative retreat every day. 
"That's how it feels so the artistic juices are starting to flow again and I feel rejuvenated. I can feel the birthing of a very beautiful folk album. I often go into forest at the back of my house, and there are deer there, so it is just like being a film, which inspires me no end."
Kirsty decided to move to Hebden Bridge after playing the Trades Club and this year's festive set will be a typically eclectic mix of winter and Christmas songs 
 "The Trades is one of the best venues in this country, and I've played in a lot of them, but the Trades is so local and a co-operative. It is a stable of the scene, showing how things can be done, and how they can be done in a local way. There is always something interesting on there."
Now settled in the valley with her son, Kirsty is in the middle of a very productive period, with two projects coming to fruition, and more work brewing.
"I've just finished mixing one album with Jerry Boys, who has five Grammys, and he did Buena Vista Social Club, and did a lot of world music acts. I've got an album coming out in May called Moonbird, and I'm just gearing up to begin writing the next project."
To win a pair of tickets for Wintersongs on Sunday 16 December, all you have to do is say which island the original Buena Vista Social members come from. Email your answers by 12 noon on Thursday 13 December.
Email your answers to the HebWeb