Rotary Club says thanks and Merry Christmas
Wednesday, 12 December 2018
The Rotary Club of Hebden Bridge has asked the HebWeb to wish all their supporters a very Merry Christmas and a Happy and Prosperous New Year.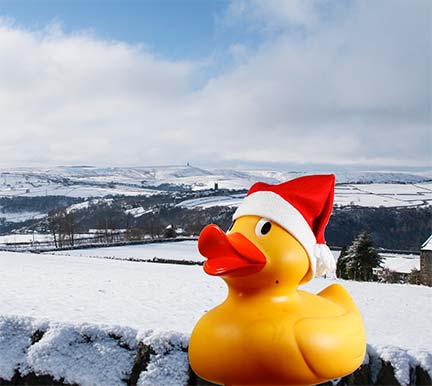 The Vintage Weekend and Duck Race, raised a total in excess of £40,000 this year for local, national and international charities and good causes. They have been able help many organisations over the year including:
Many local schools with a wide range of projects
Calderdale Young Carers,
Hebden Bridge Picture House with there renovation project,
Hebden Bridge Saints and Hebden Bridge Junior Band,
Scout and Guide Groups throughout our area, local Community groups.
Nationally and internationally through our Shelterboxes which are distributed to help with disaster relief all over the world,
National charities such as R.N.L.I

'Know your Blood Pressure' and the Christmas Shoebox campaign.
The Rotary Society say that they could not do this without the tremendous support they receive from the great British public, both in Calderdale and beyond. They also receive terrific support and sponsorship from both commercial and private businesses and organisations.
A full list of grants made by the Hebden Bridge Rotary Club can be found on their website - follow the link to Grants made by the club