Dawson City cabins of Mytholmroyd
Sunday, 13 January 2019
Traffic management will be in place along New Road, Mytholmroyd from week commencing 14th January to carry out the removal of the timber cabins. The cabins that date back to 1907 and built overhanging the river, need to be removed to enable the construction of the new permanent flood wall.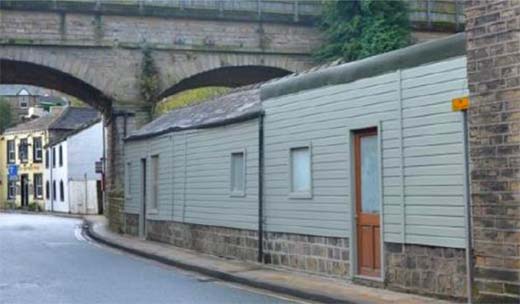 In order to facilitate this work, traffic management will be in place along New Road for approximately 8 weeks. This is to erect scaffolding, demolish the structures and build the new walls at this location. Two way lights will be in place and one lane closed to traffic. Temporary bus stops will be positioned as shown on the map above.
The cabins originated from Dawson City near Heptonstall, north of Hebden Bridge, which housed 600 labourers who built the Walshaw Dean reservoirs. When their work was completed, the contractors auctioned off the single-storey wooden cabins and several were relocated around Calderdale.
A full archaeological recording study will take place during the demolition to record details for posterity, although the unoccupied timber cabins have been altered to such an extent that their architectural significance has been considerably diminished. These buildings were not built for longevity, originating as makeshift temporary structures.

It is hoped however, that some of the timber can be retained. We have been approached by the owner of the land once occupied by Dawson City to salvage as much as possible so that hopefully, the wood can be used for a nature and wildlife project and keep alive some of the history of Dawson City!
The Environment Agency and their partners very much appreciate your patience while they complete this section of the work and apologise for any inconvenience caused by the additional traffic management. If you have any concerns, questions or feedback please come and talk to a member of the team at the Red Acre Site Office. Alternatively, you can contact the Agency by emai.