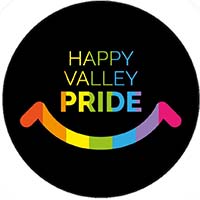 Happy Valley Pride 2019 promises bigger, better and bawdy
Thursday, 24 January 2019
Happy Valley Pride is an eclectic, alternative and inclusive, week-long festival for everyone. Celebrating LGBT+ life in Hebden Bridge and surrounding areas it will be taking place, earlier than in previous years, during the week of 22 to 28 July 2019.
Founded in 2015, the festival has rapidly grown in size and stature - last year attracting over 3,000 attendees across 15 events and 7 days. Set in the stunning location of the Calder Valley (recently recognised in National Geographic's Cool List 2019) they have built an enviable reputation for creating a distinctive, LGBT+ arts-focused programme.
Dates moved
The decision to move the festival dates was taken to guarantee the calibre of artists and performers now expected of Happy Valley Pride, as the previous dates were close to other key festivals, notably Edinburgh Festival.
Chair and Festival Programmer, Tim Whitehead commented, "In the last couple of years, we have managed to attract an incredibly diverse and reputable range of artists. Camille O'Sullivan (recently voted in the Top 25 Jools Holland's performances) headlined last year, due to an unusual change in schedule. In 2016, BBC Radio 4 regular, Zoe Lyons was another coup and a total sell out. We were aware of other artists we'd loved to welcome to Happy Valley Pride, yet missed out simply because they were booked for Edinburgh. We're now planning a superb week, which we're excited will offer something special for everyone and offer our best Pride yet.
"At the heart of this, we owe a huge debt of gratitude to to the local community and businesses who have supported us in funding the festival, such as local artist, Kate Lycett, whose unique artwork donation attracted national interest via our art auction."
Proving their point, the first confirmed event is the auspicious return of legendary London-club night, Duckie. Having lured them to Yorkshire from their Vauxhall Tavern residency - last year's inaugural visit to The Trades Club sold out in 48 hours post-announcement. Its cult cabaret line-up of renowned performance artists is bound to guarantee Happy Valley Pride will stand above the Pride crowd.
With a growing Committee of volunteer trustees and loyal festival team, Happy Valley Pride quickly built a strong reputation and year-round profile via social nights, community involvement and regular Trades' Club fundraiser nights.
Working alongside local schools and other community groups, they have also sought to raise understanding and acceptance of the LGBT+ community via art projects.
With plenty still to do, those interested in getting involved are welcome to contact the team via their social media accounts or email.