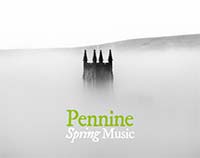 Friday, 15 February 2019
Heptonstall's Pennine Spring Music Festival
27th May to 1st June 2019
Heptonstall is a remarkable place it must be said. For a medium sized historic village situated on a high plateaux above Hebden Bridge it has many creative happenings taking place here each year; a community festival combining all the arts, community plays, open studios, open mics and more besides.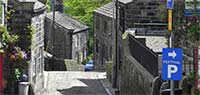 The village is rich in beautiful ancient and modern spaces that lend themselves to these events  and the surrounding countryside adds to the beauty and atmosphere but they could not happen here without the tenacity, energy, vision and pure hardwork of the villagers. It must be admitted that I am biased as I live in the village and feel privilaged to have so much creativity and excitement on my doorstep.
The Pennine Spring Music Festival is an absolute gem and for many years has taken place in the village, this year from 27th May to 1st June, during the May bank holiday. We work hard through the week learning new pieces; orchestral, choral, chamber and all with a passion and realisation that there will be three concerts to shape and hone for the public, to be held at St Thomas's church during the festival week.
Without our professional tutors to teach and guide this just wouldn't be possible. This year we have a young, dynamic new orchestral Director, Orr Guy who, alongside our choral Director Keith Orrell will, with great jollity and humour, guide, challenge and encourage us with their expertise. We are still looking for violins, trombones and a few singers, so, if you would enjoy the challenge please do go to our website for more information.
The three concerts this year should  have something to please everyone. So, if you can't be part of the music course but wish to hear the fruit of our efforts then please try to get to one of the concerts, they really are special. This year you'll hear Kodaly, Prokofiev, Chilcott, Poulenc, Cole Porter, Mozart and Tchaikovsky. To find out more about Pennine Spring Music 2019 just go to our website: www.penninespringmusic.co.uk
You may just need an antidote and escape from the political shenanegins going on around us at the moment. The arts can, must and do fill the void so please come, fill your hearts and join us in Heptonstall this year.