Piano Festival programme launch party
Friday, 8 March 2019
A regular fixture in the town's social calendar, the 2019 Hebden Bridge Piano Festival programme launch party takes place in the café bar at the Town Hall on Friday March 15th. There's live piano music provided by Festival Director David Nelson for this free event which is open to anyone and starts at 6.30pm.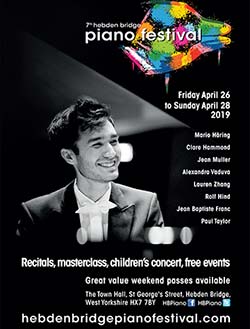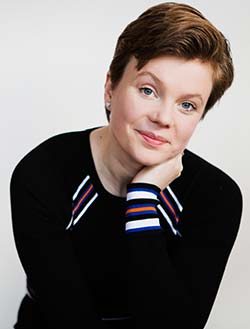 It's also the earliest opportunity to buy tickets and passes for the Festival weekend which starts on April 26th with another great programme of stunning recitals given by pianists of international standing. Clare Hammond (pictured above), Rolf Hind and the Luxembourg -based virtuoso Jean Muller are some of the most distinguished classical pianists who have graced concert halls all over the world. Taking their first steps into that world are German Pianist Mario Häring who was a prize-winner at the Leeds International Piano Competition last year, BBC Young Musician 2018, Lauren Zhang and the exciting young Romanian pianist Alexandra Vaduva.
Hebden Bridge Piano Festival has never been exclusively about Classical piano music and this year there are performances by the brilliant young Parisian boogie-woogie player Jean Baptiste Franc and by the exciting and inventive jazz pianist Paul Taylor.
The Festival has always had a strong commitment to programming contemporary music and this year the eclectic and astounding pianist Rolf Hind will present a programme of music by, or in memory of, the great composer Sir Peter Maxwell Davies who died in 2016. This will include the world premièreof a piece especially commissioned by the Festival, written by composer Kerry Andrew whose pieces were performed at the Proms in both 2017 and 2018.
These high calibre concerts are interspersed with events intended to involve the whole community. Alongside the top-notch concerts therefore, the festival programme features inexpensive concerts for children and families, recitals by local pianists and students, free concerts featuring non-classical piano music, and impromptu alfresco performances by anyone who enjoys playing.
"The programme launch is always great fun", said David Nelson. "The Town Hall bar will be open so come along, have a drink, enjoy some live jazz and take time to absorb the excellent programme we've put together and to secure tickets for what will undoubtedly be a sell-out weekend."
Tickets go on sale both at the launch and online at 7pm on March 15th, and the Festival box office opens at the Town Hall reception desk on Monday March 18th. Alternatively, postal bookings can be made via the booking form available from the Festival website. For in-person booking, the Town Hall box office will be open on weekdays right up to the Festival weekend. There is a quick link for on-line booking and much more information about the recitals and performers at www.hebdenbridgepianofestival.com.