Linda Green's new Hebden Bridge novel
Tuesday, 12 March 2019
Bestselling author Linda Green will be launching her new Calder Valley-set novel in Hebden Bridge today.
The book has been selected for the spring Richard and Judy Book Club, in association with WHSmith, and the author, whose previous eight novels have sold more than one million copies, is hoping it will follow them into the bestseller charts.
Ms Green's new novel, The Last Thing She Told Me, is set in Pecket Well, Hebden Bridge and Heptonstall. It tells the story of three generations of women in the same family and opens with great-grandmother Betty, confessing that there are "babies at the bottom of the garden" moments before she dies.
Her grand-daughter Nicola then has to decide whether to try to find out the truth behind the confession, even if it risks tearing her family apart.
The novel focuses on how family secrets and the shame women have been made to feel over generations, can scar lives.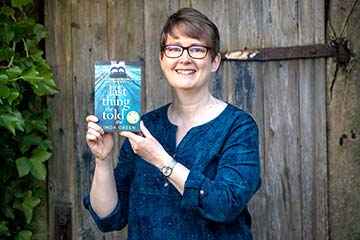 Ms Green, who received 102 rejections from agents before she got her first book deal in 2005, was inspired to write the novel by comments made by her grandmother before she died.
She explained to the HebWeb, "My grandmother said something which suggested she was taking a secret to her grave. We'll never know what that was, but it got me thinking about that generation of women and the secrets they kept because of the shame which society made them feel.
"When I talked to friends about this, several of them told me stories of older women in their own families who'd been forced to give away or abort illegitimate babies because of the shame.

"But while the stigma associated with things like having a baby out of wedlock may have subsided, there are plenty of other ways that women have been shamed since and continue to be shamed today. While I was writing the novel, more cases of historic child sexual abuse came out and the #MeToo movement gathered pace around the world.
"Clearly, a lot of girls and women are still being made to feel ashamed of things men have done to them and that was something I wanted to shine a light on."
Ms Green added, "I love setting my novels in the Calder Valley and I receive a lot of feedback from readers saying how much they appreciate the local setting."
The author will be talking about her book and signing copies, sold by The Book Case, at a launch event upstairs at Chapter 17 in Market Street, Hebden Bridge on Wednesday March 13 at 7pm. She also be signed copies at The Book Corner in The Piece Hall in Halifax on Saturday 9 March.
The Last Thing She Told Me is published in paperback by Quercus on March 7 (£7.99)