New Wildflower Site in Mytholmroyd:
Date
Hebden Royd Town Council are delighted to be adding a touch of colour to Mytholmroyd as a new project gets underway to plant a wildflower meadow at Hawksclough, a site which is currently infested with dock weed and ragwort.
Funded by Hebden Royd Town Council's Environment, Allotments and Events Committee, the work will be undertaken by Calderdale Council. The project is part of a wider Calderdale scheme 'The Calderdale Corridors of Colour' which links into the nationwide Grow Wild project, supported by Kew Gardens.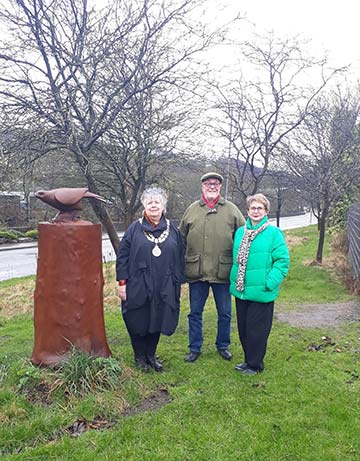 Cllr Dave Young said. "As Chair of the Environment, Allotment & Events Committee on HRTC I am proud to see the expansion of our wildflower planting in Hebden Royd. This new site is at Hawksclough - the gateway to Mytholmroyd, and it should be a blaze of colour in the summer months."

Once sown, with native species perennial wildflowers, the area will provide colour and interest year after year. Not only this, the project will improve the environment and enhance biodiversity by providing an excellent source of nectar for bees and other pollinator insects to feed on, during a time of the year when it is not so readily available.

The project was brought to the committee by councillor for Caldene Ward, Christine Bampton-Smith, after being suggested by residents in the community. She commented, "Wildflowers have a certain beauty that reflects their wildness. It is also important to retain wildflowers in the environment. A wildflower display at the entrance to Mytholmroyd will bring a welcome splash of colour, and hopefully cheer the spirits."

Whilst construction work is being undertaken in Mytholmroyd, it is hoped that these small changes will help to make a difference to the community; using wildflowers to improve the environment and bring brightness, beauty and greater biodiversity into the area.
The Mayor of Hebden Royd Cllr Dr Carol Stow visited the site and said: "Plantming wildflowers at Hawksclough is another example of the town council listening to residents. The wildflowers will bring a splash of colour to the area this summer, and for years to come."
Works are due to start on site mid-March and be completed by late spring.
For further information please contact Emma Green on 01422 842181 or email.