The Station finally has lifts
Tuesday, 19 March 2019
Until platform staff were withdrawn in the mid-1980s, there were lifts at Hebden Bridge Station, hydraulically powered, on both platforms down to the subway to assist porters to move heavy and bulky items between platforms. Although the lifts were no longer in use, the shafts, and the old workings, were still there.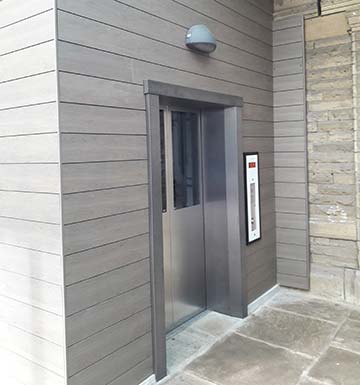 Both the Friends of Hebden Bridge Station and the Hebden Bridge Disability Access Forum have been campaigning for some time for lifts at the station.
Now they are working again, for passengers.
Today, Tuesday 18 March at 11.38 am, the lifts took their first passengers.
The first stage was to dismantle parts of the existing goods lifts so that Network Rail's contractors could carry out an assessment of the shafts, ready for passenger lifts.
Work on the installation of new lifts started in August 2018 with a hoped-for completion date of the end of February 2019.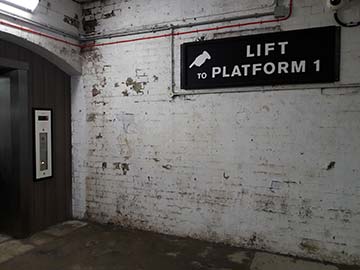 June Eaton, on behalf of the Hebden Bridge Disability Access Forum, today told the HebWeb, "On Monday 18th March, Hebden Bridge Disability Access Forum received the very welcome news that the new lifts to both platforms at Hebden Bridge Railway Station are now completed and in service, so that people who can't use stairs can access both platforms and can get on and off trains in both directions.
"The lifts will benefit lots of different people including those using wheelchairs, scooters, pushchairs, bikes, carrying heavy luggage or who have visual or mobility impairments.
"Thanks to the Friends of Hebden Bridge Station and other members of the community for their tireless campaigning over a period of many years."
See also
Friends of Hebden Bridge Station
Town Hall Exhibition - Hebden Bridge and its Station