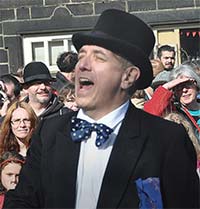 Pace Egg Play 2019
Sunday 24 March 2019
David Burnop:
40 years as The Doctor
Good Friday, 19 April
See below for Midgley Pace Play details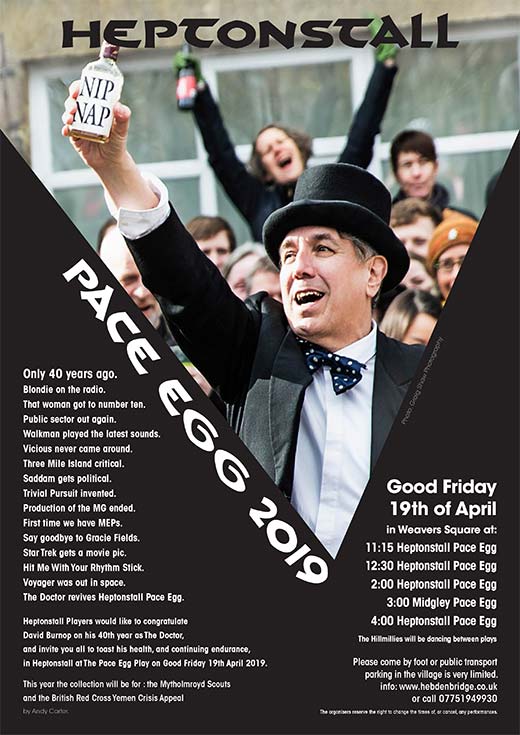 Download larger version of this poster
Only 40 years ago.
Blondie on the radio.
That woman got to number ten.
Public sector out again.
Walkman played the latest sounds.
Vicious never came around.
Three Mile Island critical.
Saddam gets political.
Trivial Pursuit invented.
Production of the MG ended.
First time we have MEPs.
Say goodbye to Gracie Fields.
StarTrek gets a movie pic.
Hit Me With Your Rhythm Stick.
Voyager was out in space.
The Doctor revives Heptonstall Pace Egg.
Heptonstall Players would like to congratulate David Burnop on his 40th year as The Doctor, and invite you all to toast his health, and continuing endurance, in Heptonstall at The Pace Egg Play on Good Friday 19th April 2019.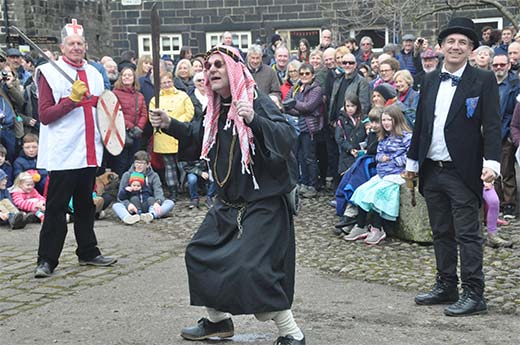 This year the collection will be for the Mytholmroyd Scouts and the British Red Cross Yemen Crisis Appeal.

Weavers Square, Heptonstall:
11.15 Heptonstall Pace Egg
12:30 Heptonstall Pace Egg
2pm Heptonstall Pace Egg
3pm Midgley Pace Egg
4pm Heptonstall Pace Egg
The Hillmillies will be dancing belween plays.
Please come by fool or public transport.
Parking in the village is very limited.
"It's said to be the oldest drama in the world, dating back to ancient Egypt and performed by many civilisations across the centuries.
"Now the Pace Egg Play is confined largely to the Calder Valley where it has become an established tradition, played out in all its gory glory on Good Friday.
"Each year, without fail, St George takes on contenders such as Bold Slasher, the Black Prince of Paradine and Hector, aided and abetted by other equally outrageous characters such as Toss Pot and the Doctor." Milltown Memories 3