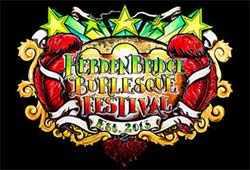 Hebden Bridge Burlesque Festival
Thursday, 25 April 2019
Hebden Bridge Burlesque Festival - one of the most-controversial events in Yorkshire, has revealed that this year's event has broken Box Office records, with over 1000 tickets sold so far for this year's event.
What started as a small 2 day event in 2013 has swelled to become the biggest Burlesque Weekender in the UK, with performers travelling from as far away as mainland Europe and the US to take part in the award-winning event.
This year's schedule includes live shows at Hebden Bridge Little Theatre and Todmorden Hippodrome, with extra events in Mytholmroyd Community Centre, The Salem Centre and Nelson's Wine Bar.
Thursday, Friday and Sunday evenings have already sold out!
There are still tickets left for The 7th Annual Hebden Bridge Burlesque Festival Gala, at Todmorden Hippodrome on Saturday 4 May (Tickets £25). Hosted by Amber Topaz, reigning Miss Burlesque UK (who grew up in Yorkshire), the Gala features some of the biggest names in Burlesque, including Freida Nipples, winner of the Best of Burlesque 2017 title at the Berlin Burlesque 2017; internationally-acclaimed circus-trained aerialist, Stefanie Usher; Tronicat Le Miez, winner of Neo Burlesque Queen title at The Amsterdam Burlesque Award, flying in from Germany; multi award-winning International Sword Swallower, Missa Blue, hot from her recent tour of the USA; and the Golden Glamazon, Sydni Deveraux, two-time winner in the prestigious Burlesque Hall of Fame, Queen of Burlesque category in Las Vegas, who is flying in from New York to perform exclusively at Hebden Bridge Burlesque Festival.
For those who want to enjoy a bit of retail therapy, Mytholmroyd Community Centre is the place to be on Saturday, between 11am and 5pm where the venue will host The Burlesque Bazaar (Donation on the Door) - a unique shopping event with stalls selling everything from corsets and costume pieces to homewares and handbags. The Bazaar also features a Pop Up Vintage Beauty Parlour, where you can have your hair styled in classic 50s victory rolls and a Live Performer Q&A (free event) with some of the Festival's headliners.
Alongside the Bazaar, there is also a programme of participatory workshops (Tickets from £15), with everything from Beginners' Burlesque with Festival CoProducer, Lady Wildflower and Tap Dancing with a Drag Queen, to Flexibility with contortionist,John Celestus and even a Twerking Masterclass!
On Sunday, there are more workshops at The Salem Centre and at 12 noon in The Little Theatre, Jack Stark's Tea, Bee, Sea is a brand new one-man show about procrastination and panic, from the man behind modern clown, Kiki Lovechild. Sunday teatime there will be silliness in abundance as Nelson's Wine Bar is the setting for the first ever Drag Bingo, hosted by Drag Queen Dolly Trolley (free entry - just pay to play).
It is estimated that HBBF generates over £100,000 for the local economy every year, bringing performers and burlesque fans from across the UK, Europe and beyond.