Crown Street Jewellers to Close
Monday, 29 April 2019
Owners of the family run jewellers, Riverstones Fine Jewellery on Crown Street have unexpectedly announced that they intend to close the store.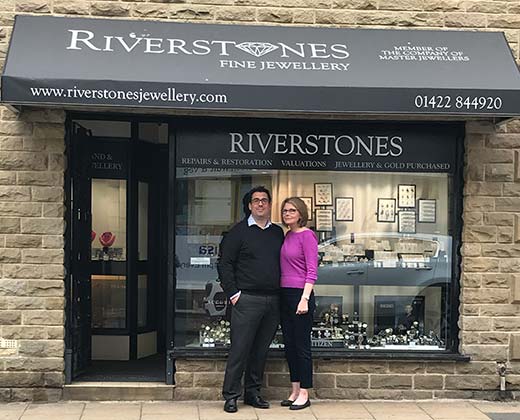 Husband and wife, Wayne and Karen Smith, pictured above, took over Riverstones Fine Jewellery in 2009. With a background in the jewellery and valuing sectors, the couple were keen to focus on retail sales of fine jewellery and a selection of contemporary pieces, from the established store which has been well-known in the town since the late 1980s. 
The changing face of the retail landscape, increased online competition and Wayne's involvement in other areas of the jewellery trade has led the couple to make a difficult decision. 
Said Wayne, "Hebden Bridge is a lovely town and over the years we have been very successful here, but times change. We took a close look at the cost of running the store - rent, rates etc and have made the difficult decision to close.
"It's been a really tough decision to make. Small independent jewellers don't have the draw of the big brands and for us I don't believe there is a strong future in the high street."
The impending closure will be heralded by a closing down sale, which will see thousands of pounds worth of fine gold and diamond jewellery discounted by 50% including exquisite diamond rings, coloured stone pieces, bracelets, necklaces and earrings. The closing down sale will commence at 10am on Saturday 4th May. 
All jewellery and watches will be included in the sale. The store will be open seven days a week for the duration of the closing down sale, with the early days of the sale expected to be very busy.