Vintage Weekend - vote for a Bond film and car
Saturday, 18 May 2019
Hebden Bridge will, once again, be the place to be on the 3rd and 4th August 2019 when the Rotary Club of Hebden Bridge hosts the iconic charity fund raising Hebden Bridge Vintage Weekend.
James Bond classic cars
To help us celebrate the event, The Picture House, Hebden Bridge, will once again run our great Car Film competition where the public get to vote on their favourite, this year's theme is James Bond classic cars culminating in a gala evening at the Picture House on 28th July. You will be able to vote on our Facebook page, have a go it's great fun.
The cars and films are being featured throughout May on our Facebook page.
A) Goldfinger (1964) PG - starring the Aston Martin DB5 and Sean Connery
(B) On Her Majesty's Secret Service (1969) PG - featuring the Mercury Cougar XR7 (not actually 007's car, but lovely to watch all the same) and George Lazenby
(C) The Spy Who Loved Me (1977) PG - we're loving the Lotus Esprit S1 and Sir Roger Moore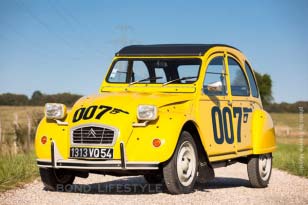 (D) For Your Eyes Only (1981) PG - calling all Citroen 2CV and Roger Moore fans
(E) The Living Daylights (1987) PG - all the more fun with the Aston Martin V8 Vantage and Timothy Dalton
The choice is yours just follow the link below, or go to our Facebook page vote, and give us a like, you could win tickets for the gala evening at The Picture House (28th July), and the Vintage Weekend 3rd/4th August.
Just follow this link

Please come along, if you can to both events and support two great Hebden Bridge institutions, The Vintage Weekend and The Picture House.