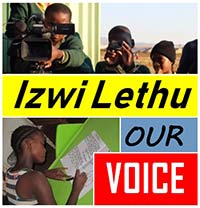 Desmond Tutu's South African Children's Charity launches Exhibition in Hebden Bridge
Wednesday, 22 May 2019
On Saturday 8th June the Hebden Bridge based charity Bishop Simeon Trust will launch the 'IzwiLethu: Our Voice' exhibition at Artsmill on Linden Road.
The Bishop Simeon Trust as a charity has worked with orphans and some of the most vulnerable children in South Africa for the past thirty years. The South African Archbishop Emeritus Desmond Tutu, a lead Patron of the organisation, helped found the charity in 1989. The Trust was founded to continue and build upon the legacy of Bishop Simeon Nkoane, who worked to protect vulnerable children under apartheid.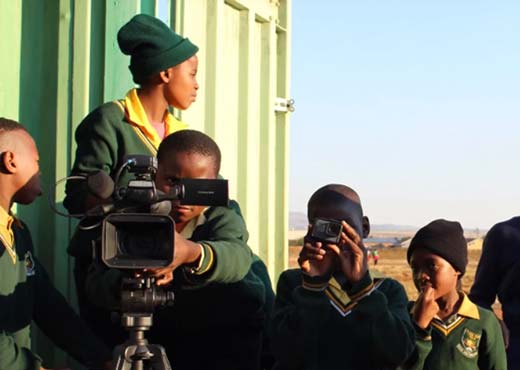 Martin Keat, Director of the Bishop Simeon Trust said, "The exhibition will allow us to showcase some of the innovative artworks produced by the children we work with in South Africa. These will include comics and films created entirely by children in townships to the East of Johannesburg who want to share their stories.
"Through our programmes, we use this creative approach to help them to deal with the problems they've faced in life. By helping them to express their views and experiences, we support young people to raise awareness and lead campaigns for change in their communities."
The charity has invited Hebden Bridge's own storyteller Ursula Holden Gill, to perform stories written by children from the townships that the Bishop Simeon Trust supports. In addition, Professor Paul Cooke - a project collaborator from the University of Leeds - will present his award-winning short film 'The Born Free Generation, Phendulani's Story and Me', filmed in the township of Katlehong.
"These are powerful and thought provoking stories," says Martin Keat pictured right, with Nomsa.
Having recently established their office in the neighbourhood, Keat hopes the launch will be an exciting way for the communities in Hebden Bridge to engage with their work. "We think that this will be a fantastic opportunity for people in Hebden Bridge to explore the continued story of change in South Africa through the voices of children who live there. The Bishop Simeon Trust provides a connection between Hebden Bridge and South Africa, so we hope that people will come along to listen to the stories of the children we support, and find out how they can support our vital work."
The IzwiLethu: Our Voice exhibition launch will be held in Artsmill on Linden Road in Hebden Bridge from 6-8pm on Saturday 8th June 2019.
There is an open invitation to the launch but the Trust recommends that those interested register via the Eventbrite link that may be found on their website www.bstrust.org.