Liberal Democrats Press for Weed Killer Ban
Monday, 3 June 2019
Liberal Democrat councillors are pushing the Council to ban the use of glyphosate-based weed killers because of safety concerns.
A motion calling on the Council to cease the use of the weed killers has been submitted by the group for debate at the Council meeting in July.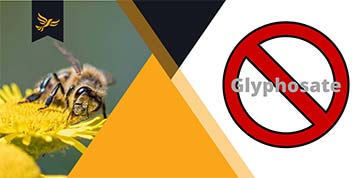 Leader of the Liberal Democrat group, Cllr James Baker (Warley) said, "The possible harmful effects of glyphosate have been the subject of scientific studies and debate around the world. We are particularly concerned that the World Health Organization has concluded that glyphosates probably cause cancer in humans and that other studies have suggested links with liver diseases and a correlation with neurological conditions."
"Other studies have suggested that there may also be a harmful effect on bees, which are vital for pollination of many plants."
"In recent court cases in America, juries have accepted the link between glyphosates and cancer and have awarded vast sums in damages."
"Taking all this into account, we think the Council should adopt a 'safety first' approach for the sake of Council staff, the public and of wildlife, and immediately stop using glyphosates."
"Alternative weed treatments are available and these should be used – as they are in other councils and in other countries", said Cllr Baker.