Wainsgate Concert: Birds and Beasts
Tuesday, 4 June 2019
Wainsgate Chapel's concert series continues on Saturday June 8th with an early evening (7pm) performance by West Yorkshire acoustic duo Birds and Beasts, with a support set by Slow Town Clock - aka Jamie Marshall.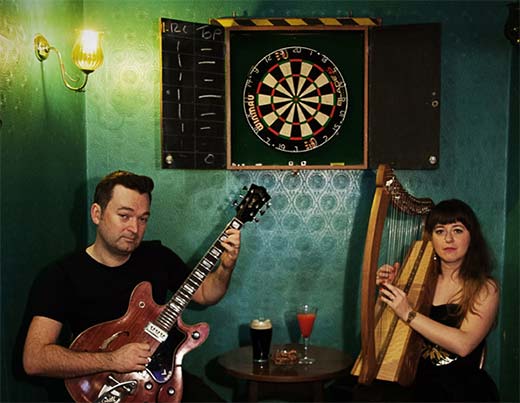 Birds and Beasts are Leo and Anna Brazil whose union started in Huddersfield with a mutual love of animals and music. Then, stuck in a log cabin during a snowstorm in Germany, with only a guitar and a bass, the idea of Birds and Beasts was born. They will be performing songs from their new album 'Entwined' which is mostly about the lives and adventures of animals but related to human experience.  

Mastered at Abbey Road Studios, the songs from the album have been carefully curated and produced to create perfect stories through the band's music. They reflect a series of emotions from triumphs, heartache, betrayal, loss, love, union and friendship through the prism of the animal kingdom.

Supporting Birds and Beasts is singer/songwriter Slow Town Clock who has spent many years busking and gigging around the UK and Ireland and is now based in the Calder Valley, where he has been writing and playing his own brand of alternative folk music for the past year.

Until this year our concerts at have generally taken place in the afternoon but now that we have a licensed bar we are introducing a 7pm start for some events. 
Doors open at 6.30, and tickets, which are only available at the door, are £10 and £8 with a special price of £3 for under-18s.

The Wainsgate concert series continues on Saturday afternoon June 15th with a flute and guitar recital given by the Meraki Duo who are performing pieces by Bartók, Piazzolla and Messiaen. After the summer break, the series resumes with jazz guitarist Stuart McCallum performing with the Amika String Quartet, followed by quirky folk/pop duo Beware of Trains, the electrifying ME and Deboe, Morecambe's Deep Cabaret and a performance poetry event with Clare Shaw and Ian Humphreys. There is further information about all these events plus details about how to get to Wainsgate Chapel at www.wainsgate.co.uk

Can you help? These events are dependent on a handful of volunteers, myself included, who sell tickets, serve tea and coffee, and clear up afterwards. if you could help, in exchange for free entry to any event you volunteer at, please let Dave Nelson know asap.