M.E. Support Group in Hebden Bridge
Wednesday, 19 June 2019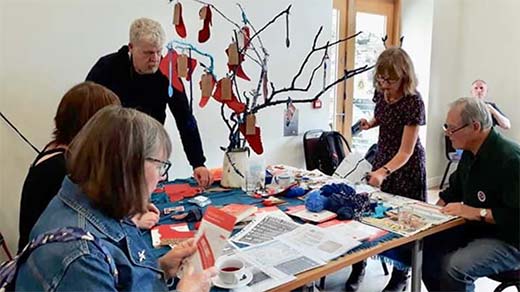 Hebden Bridge M.E. Support Group held their 1st ME awareness event on June 14th, after only recently getting together as a Facebook group. The event was part of a wellness and creativity event at the Town Hall arranged by the Hebden Bridge Arts Festival. Artists in the group created a fantastic collection of red shoes, each representing someone local who is 'missing' from their lives as well as public spaces, due to ME.
Visitors were invited to decorate spoons, and hang them on a spoon tree; people with chronic illness often call themselves 'spoonies', using a limited daily allowance of spoons as an analogy for energy limiting conditions.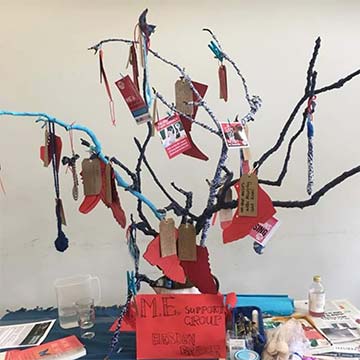 Katie told the HebWeb, "It was great to turn the isolating experience of chronic illness into a positive, creative event, that also builds awareness, and hopefully support, for those suffering with ME. We hope to have regular meet-ups for local people struggling with ME, at the Soup Dragon, on the 1st Friday of each month 12-3pm."
Our beautiful creation is available to be displayed at your event, community space or business; spare a thought, and show your solidarity with those who are too ill to be there. Get in touch to discuss how you could display /include it.
Missing
L. ill since 2012, missing from walking, camping, singing, working.
E. ill since 2014, missing from my career teaching, daughter, dancing, running, socialising, living without pain.
J. ill since 1998, missing from peace/eco activisting, mountaineering, dancing, being with friends.
Myalgic Encephalomyelitis (ME), is a devastating, complex, multi-system disease, which affects the immune system, nervous system, endocrine system and metabolism. It affects between 15-30 million worldwide, 75% of patients are women. 80% are unable to work, 25% are house or bed bound.
More research needed
ME receives a tiny percentage of the research funding awarded to other chronic illnesses.There are an estimated 25,000 children with ME in the UK. ME is the leading cause of long-term school sickness absence in the UK.1 in 5 families of children with ME are subjected to unjustified child protection proceedings.
NHS gets it wrong
Graded Exercise Therapy (GET) and Cognitive Behavioural Therapy (CBT) are the main treatments recommended in the NHS. GET is harming people with ME. CBT is ineffective.
GPs receive little to no training about ME. Institutional and social attitudes remain outdated, failing to understand the devastating impact of ME or to acknowledge the growing body of research identifying biological markers, meaning there is little support available to sufferers and benefits even harder to obtain.
We are seeking to:
Suspend GET and CBT treatments
Update ProfessionalTraining
Stop Unjustified Child Protection Proceedings
The government must urgently invest in biomedical research after decades of neglecting people with ME.
@ME Support Group Hebden Bridge
#MillionsMissing #MEawareness