Thursday, 25 July 2019
Commemoration of Hiroshima & Nagasaki nuclear massacres
On Sunday 4th August, peace activists will gather on the wavy steps at the Packhorse Bridge in Hebden Bridge to remember all those who perished when nuclear bombs were dropped in 1945.
The short service will be led by Catherine Putz, a member of Hebden Bridge Quaker Meeting, and will feature music with members of Calder Valley Voices. There will also be readings and poetry from members of Calder Valley CND for Peace & Justice.
The Mayor of Hebden Royd, Carol Stow, will read the statement from her counterpart in Hiroshima City. She will give a message of hope as the United Nations Treaty on the Prohibition of Nuclear Weapons moves closer to fruition. Hebden Royd Council were the third council in the UK to formally support the Treaty joining Paris, Oslo, Toronto, California, Geneva and many others.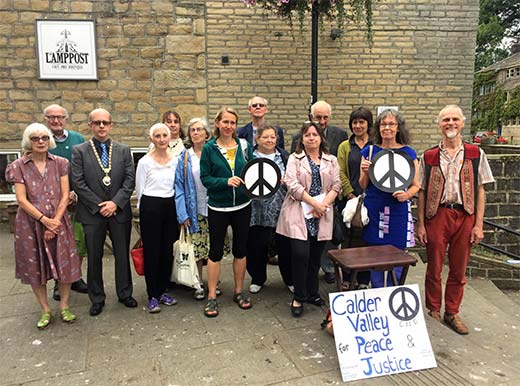 Judith Baron of Calder Valley CND, who will give a short presentation at the event, on the importance of nuclear disarmament today, said, "It is too easy to forget the tremendous suffering caused by nuclear weapons, a weapon which is designed to target civilians. And not only civilians alive at the time, but those yet unborn as radiation poisoning is passed to children in the womb. By holding this short commemoration event, we ensure that those hundreds of thousands of innocent people are not forgotten. It also serves to keep us focused on the importance of our ongoing struggle to rid the world of these immoral and catastrophic weapons"
Everyone is welcome to attend: gather at 3pm at the Packhorse Bridge on 4 August.