Peterloo: Actress Maxine Peake to unveil political banner created by a Calder Valley artist
Sunday, 11 August 2019
Joan Heath lives in Todmorden and is a former resident of Hebden Bridge.
She has created a new, hand-painted banner for the Greater Manchester Morning Star Readers' and Supporters' Group. The Morning Star is the daily, national newspaper of the labour and trade union movement, and carries the slogan "For Peace and Socialism."
This week marks the 200th anniversary of the Peterloo Massacre in Manchester, when sabre-wielding cavalry and militia charged into a 60,000-strong peaceful crowd at which speakers were calling for greater democracy in Britain.
At lease 15 people died and 700 injured.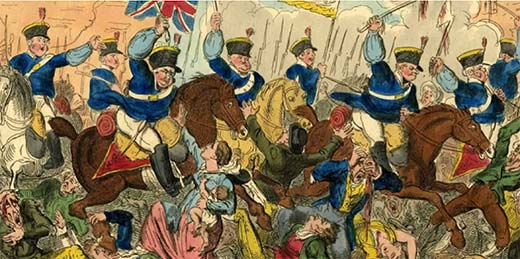 Peterloo is the theme of Ms Heath's new banner, featuring the head of a roaring lion and lines from Shelley's epic poem about Peterloo, Masque of Anarchy: "Arise like lions from your slumber.....ye are many, they are few."
The unveiling by Maxine Peake takes place at 2pm on Wednesday, 14 August, in the Coal Store Room at the People's History Museum in Manchester.
Previous works by Ms Heath include banners for Calder Valley and Bradford Morning Star Readers and Supporters' Groups, the national banner of the Morning Star newspaper, and banners for the Women Against Pit Closures movement, for a miners' support group during the Tories' butchery of the coal mining industry before the industry was privatised in 1994, and a banner celebrating and commemorating the life of Mother Jones, an Irish woman who in the mid1800s emigrated to the United States where she became a union activist, campaigner and strike leader, leading to her been described in one of many court cases against her as "The most dangerous woman in America." She died in 1930, aged 93.
Maxine Peake is an ambassador for the Morning Star, and will guest edit the weekend edition of the paper on August 17 and 18 when many Peterloo commemoration events are planned. She starred in Mike Leigh's film Peterloo which has been shown at Hebden Bridge Picture House.