More Comedy at The Little Theatre
Wednesday, 14 August 2019
A host of world-famous comics like Michael McIntyre, John Bishop, Jimmy Carr and Lee Evans will be featuring at Canalside Comedy at Hebden Bridge Little Theatre on 8th September.
Well that's possibly the promoters taking marketing to its extremes! But the event is featuring a brilliant impressionist in Danny Posthill, who has become renowned for his hilarious take-offs of such individuals – and many others besides.
Danny, who is based in Hartlepool, rose to fame in the 2015 series of Britain's Got Talent, when he reached the final and produced a stunning performance – despite being so ill with a migraine that his participation was in doubt until the very last minute.
What really distinguishes him from other impressionists is the quality of the gags that he incorporates with his mimicry. Indeed, it has often been said that his set would make a highly impressive stand-up routine in its own right even if it didn't contain impersonations.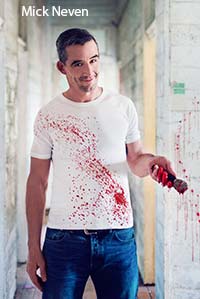 He will be joined by two top international acts: Canadian sensation David Tsonos and Mick Neven, one of Australia's busiest comedians. Not to mention a couple of other domestic gems in Hull based Nicola Wilkinson and Leicester based Rob Coleman.
Edmund Tirbutt, co-promoter at Canalside Comedy, says "Anyone who attended our first two nights will know that we always aim to put on a splendidly varied line-up, and combining a top-notch impressionist with such a geographically diverse range of talent should make for a cracking event.
"It is a tribute to the vibrant UK comedy circuit that overseas acts are so keen to perform here, and, as we saw from Kiwi opener Sully O'Sullivan at our June 30th gig. They are capable of brining a refreshingly different perspective. So, I am always looking for the chance to snap them up when they are available."
Mick Neven is certainly looking forward to his latest visit to these shores. He has always loved British audiences, especially during the last few years, because he feels they are desperate for a laugh as a result of being so beaten down by Brexit.
He says, "I could just get on stage and read a few pages from a third-year accounting text book and people in Britain would laugh. I won't do that though…I'll tell proper jokes. I'm not an idiot".
Tickets to the September 8th event cost £14. Biogs of the acts and a link to the ticket line are available at www.canalsidecomedy.co.uk
Previously, on the HebWeb
Comedy comes to the Little Theatre - March 2019