Thursday, 22 August 2019

Wuthering Bytes Technology Festival back for a sixth year
Technology festival Wuthering Bytes is returning to Hebden Bridge for its sixth outing. Taking place on August 30, the ten-day festival will offer a series of inspiring talks, demos and workshops for everyone from hobbyists to hardcore techies. 
Kick-starting the event on August 30, Festival Day will set the pace, with a jam-packed schedule of exciting talks from experts across the tech spectrum – from the world of nanosatellite construction to building your own guitar.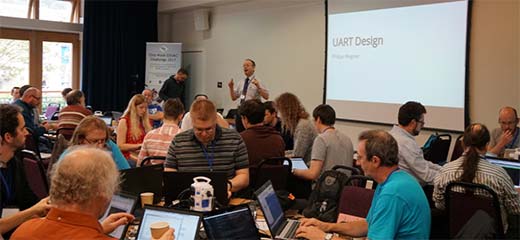 Keynote speaker: JP Rangaswami
This year's keynote speaker will be JP Rangaswami. With more than four decades working in the information industry – most recently as Chief Data Officer and Group Head of Innovation, Deutsche Bank.
JP has always been fascinated by information: where it comes from, where it goes, how it gets there and what it does to everyone and everything it touches. His talk, The Future of Lurk, will explore ''the lurkers amongst the workers,'' and examine the state of participation in active communities today. 
Lyons & Co 1950s computer
As the day progresses, there will also be insights into technology's history, with science writer Georgina Ferry presenting the story of LEO: in an unlikely account involving tech and tea, Georgina will discuss how J. Lyons & Co, Britain's biggest catering company, developed an in-house business computer which put Britain at the forefront of tech innovation in the 1950s.
Software rules the world
In her talk "Everybody wants to rule the world, but today software does" Amanda Brock, CEO of Trustable, will address the impact of smart phones and cloud computing on our online safety and how industry can develop a best-practice framework to protect us all during the ongoing fourth industrial revolution.
Atomic gardening
Sarah Angliss, composer, performer and maker of robotic musical instruments, will be recounting the story of 'atomic gardener' Muriel Howorth – a composer, self-taught physicist, sci-fi author and atomic evangelist who set out 'to lead women out of the kitchen and into the atomic age.' An audacious venture in 1948 saw her set out to grow atom-blasted seeds in gardens and allotments around the UK in the hope that they would grow a mutant vegetable so large, it would cure world hunger. 
Andrew Back, festival co-founder said: "Wuthering Bytes now holds a firm place in the calendar as an event for anyone with a passion for technology to come together. After a year's hiatus, we're really looking forward to returning to Hebden Bridge with some great speakers. We have a real community focus and I hope that many attendees find a new way to get involved, be that via a workshop on open-source development or hunting for satellites!" 
This year's event is sponsored by Leeds City Region Enterprise Partnership (LEP). Roger Marsh, Chair of the LEP and NP11, said, "It's great to sponsor Wuthering Bytes 2019 and be part of an event that brings together a wide range of people, from international digital experts to the local community, to share a passion for tech.
"With the region's digital sector contributing £6.5 billion to the City Region economy and employing 102,000 people, digital and tech is both a major strength and growth opportunity.
"As a region we have strengths in digital creativity, corporate tech solutions, fintech, medtech, robotics and data analytics, and with the arrival of Channel 4 the opportunities to grow a digital business here are greater than ever before."
Social
As with previous years, Festival Day will close with a social in the evening, with a licensed bar and snacks.  Dave Ives and Mark Tranmer will be on hand to provide the entertainment, playing a mixture of folk, electronica, dream pop and space rock! 
Internet of Things workshop
As the week progresses, attendees can participate in a variety of partner events including a hands-on Internet of Things workshop on Monday, September 2. Hosted by Zerynth in partnership with DesignSpark – the Engineering Community of RS Components – the event is completely free to attend. Additionally, participants will each receive hardware in the workshop worth £120 that they get to take home.
Just a 40-minute train journey from Manchester and Leeds, Festival Day tickets are now available and cost just £10 – book here
For all partner events including workshops and demos, check out the full itinerary - https://wutheringbytes.com/whatson≠
See also
HebWeb News 2017: Wuthering Bytes Festival back for a fifth year over ten days
HebWeb News 2016: Wuthering Bytes returns to the hills for a different type of love affair
HebWeb News 2015: Wuthering Bytes: the annual Hebden Bridge technology festival