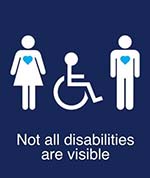 Chronic Illness; Obstacles and Opportunities in Hebden Bridge
Thursday, 5 September 2019
Hebden Bridge Disability Access Forum (HBDAF) welcomes two growing campaigns:  Chronic Illness Inclusion, and Not all Disabilities are Visible.
While the internationally recognised symbol for disability is a wheelchair, only 10% of disabled people use a wheelchair, and 80% of disabled people have hidden impairments.
Are we missing being considerate or making adjustments for people because we don't see or understand their disability? For many with chronic illness, fatigue or pain can be the major issue they are dealing with. It doesn't look or sound like much, but walking a few steps, dealing with bright lights/noisy situations, or standing up to queue can be difficult if not impossible. What could inclusion and participation look like for those who cannot be physically present in spaces of work, community or political action, due to chronic illness? 
While the government's austerity programme and hostile environment policies increasingly encourage us to judge as 'cheats' those who are seeking the support they need, we can take action as a community to help people who are disabled or vulnerable to feel confident of asking for help and being met with understanding and compassion.
There are too many differing (and often contradictory) needs for everyone to be included in one scheme/adjustment, but increased awareness and willingness to help, could make a big difference to many.
People with invisible disabilities are targets of discrimination and verbal abuse by the well-meaning UK public because they are using accessible toilets/parking spaces etc when they "don't look disabled": 93% of the public who challenge a healthy-looking person for using an accessible toilet think they are "standing up" for the rights of disabled people or that it's "not fair" on others. There are many impairments which may be invisible to  outsiders, including for example autism, Crohn's and colitis, mental health issues, heart disease, energy impairment.
You can help:
Display a sign in your shop window, website, accessible toilet or reception area: Not all Disabilities are Visible. Print this poster
Contribute (time/ideas/money) to making sure people with chronic illness are included in our community e.g. commission a report to explore local obstacles and needs, postcard info campaign, #MillionsMissing events.
Provide a chair near your entrance/for queuing, for people who cannot stand for long or walk far. 
Equality training. Make sure your staff/volunteers are aware and ready to respond to the needs of people with invisible disabilities.
Join in National Autism Hour with Quiet sessions, 5-12 October 2019. See this web page.
Please get in touch to say how you'd like to be involved or for more materials
for Hebden Bridge Disability Access Forum