Friday, 13 September 2019
Hebden Bridge WI Awesome Autumn Rag Market
Saturday 19th October 10:30am - 4pm
Venues:
The Waterfront Room, The Town Hall
The Egg Factory, Victoria Road,
Northlight Studios, Hangingroyd Lane
Entry £1 for Adults.  Crafty young things under 16 Free of charge. The fee gives access to all 3 Venues.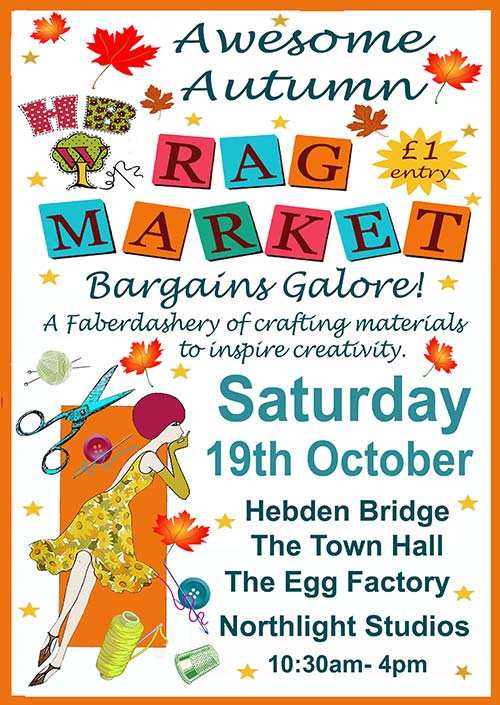 WI Cake & Jams and refreshments at The Egg Factory
The Rag Market is a twice yearly event run by Hebden Bridge WI to raise funds for our Charity of the year, which, this year is 'Healthy Minds, Calderdale', a Halifax based Mental Health Charity led by people who have personal experience of emotional distress, which aims to create and provide opportunities for people to understand and build on their strengths to better achieve what they want from their lives. 
It also pays for an Educational Bursary which is offered to members of the Hebden Bridge Branch in keeping with the Women's Institute's aims in providing women with educational opportunities and the chance to build new skills.
Our Rag Market has to be the perfect place to source not only a bargain, but original and quality crafting, dress making and tailoring materials buttons, ribbons, yarn, vintage pieces, patterns, books and anything else you could possibly need to inspire your creativity!
Many of the fabrics are vintage, one offs and from private collections so you can pick up many items that are not available in the shops for amazing prices.
Our stall holders are generally crafters themselves, reluctantly selling items from a treasured hoard that has become too large to store, but some of our regular stallholders also include local small businesses selling beautiful (Yorkshire!) woven wool tweeds and plaid fabrics and a ceramicist selling unique and unusual hand crafted ceramic buttons. 
On top of the excitement of stalls full of fabric and yarn we have the infamous WI cakes and jams for sale at our Egg Factory Venue!