Sing for fun with Calder Valley Women Singers
Tuesday, 17 September 2019
Human singing is a universal activity.  Long before we'd figured out how to write, songs were a way of passing on stories, connecting communities.
There is something special about singing - it stirs emotions, lifts our hearts, makes us feel happier, stronger, more connected with others. Songs are connections with the past,  they amplify our voices in joy, gratitude and even protest. According to John Lennon (Music Prof not Beatle!) 'Singing reflects a state of balance and a positive inner glow of contentment and equanimity. It is the audible resonant reality of our existence.'
Singing makes us physically healthier - it stimulates our blood flow by improving how the chest wall muscles work and regulates our breathing. It helps us relax and breathe more deeply. It's a natural high, releasing endorphins in the brain that give a feeling of pleasure when we sing and lowering stress levels. Standing up straight to sing also improves posture.
Learning new songs improves mental alertness, concentration and memory. Singing with others has social benefits too. It widens the friendship circle and builds confidence and communication skills.
Maybe you sing in the shower, or sing along with a CD or download. Maybe you've braved the karaoke mic.   Maybe over the summer you've sung under your breath as you've weeded the garden, or travelled in the car or along with others outdoors in the sunshine at a festival. Maybe you used to be in the school choir or maybe someone told you at some stage that you couldn't sing ... and believing that has made you suppress the natural activity of singing?
The truth is that everyone who can use a speaking voice can sing.
If you are now convinced to give singing a go, here are some opportunities coming up in the Calder Valley:
'Sing for fun' with Calder Valley Women Singers - all women are welcome to join this friendly group, regardless of previous singing experience. Find your voice and discover something new in singing.
Be introduced to a wide range of songs by a number of different teachers. Drop in to weekly sessions at Riverside School Community Room on Weds (term time) from 7.30 to 9.30.
For more information email: calder_ws@outlook.com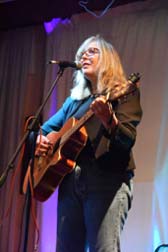 Workshop at the Fielden Centre, Todmorden on 16th November.  Men and women are invited to a one day singing workshop led by Janet Russell. Janet has worked professionally on the folk scene for over 20 years and also leads choirs in Silsden, Burnley and Settle. She is recognised as an accomplished vocal harmony workshop leader and is a member of the Natural Voice Practitioner Network. The workshop will be a fun day of singing together, punctuated by fabulous homemade food to keep up the stamina! For information or to book a place email: calder_ws@outlook.com