Sunday, 22 September 2019
Wainsgate Concert: Beware of Trains
On Sunday 29 September
7pm, doors open at 6.30pm
This weekend sees another concert in the Wainsgate Chapel summer series when the Upper Calder Valley-based duo Beware of Trains takes to the stage on Sunday, September 29.
The theatrical parlour pop and classical folk of Beware of Trains is a spirited collaboration between Yorkshire-born singer/ songwriter and producer Leighton Jones (former composer and keyboardist with Celtic Fusion group the Peatbog Faeries) and Scottish Soprano Marie Claire Breen ("A soprano of rare fluency" The Daily Mail). The duo merges their influences from both sides of the border to present a two-tiered performance with the Ariana String Quartet.
Born in Yorkshire but a Skye dweller since his youth, Jones presents material from his immersive Scottish debut EP 'All the way home'. "Showcasing a palette that spans melancholic piano balladry and traditional folk with a meticulous approach to sound design" (The Herald), the record was aired on BBC Radio 3's Global Gathering and garnered stylistic comparisons to Peter Gabriel and the synth pop of the 80s on BBC Radio Scotland's Travelling Folk show.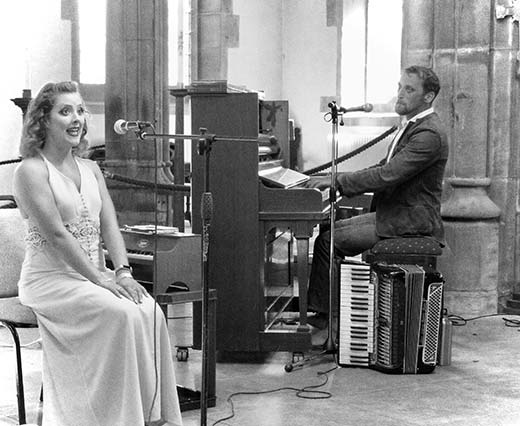 Forming on their return to live in Yorkshire, Beware of Trains blend intelligently kitsch orchestral textures and operatic harmonies echoing the playful parody, satire and jaded European romanticism of Sparks, Jacques Brel and The Divine Comedy.
The Ariana is one of the leading string quartets in Yorkshire and came into being in 1998 when four freelance musicians met informally to play chamber music and this led to the formation of a professional working quartet. They are Karen Burton and Alison White on violins with Calderdale-based Cordelia Prescott and Caroline Steer on viola and cello respectively. They have all performed with some of the finest British orchestras, including the Hallé, BBC Philharmonic, Liverpool Philharmonic, Opera North, Northern Chamber Orchestra, Welsh Chamber Orchestra and Manchester Camerata.
Beware of Trains will be performing at 7pm with doors opening at 6.30pm when the licensed bar will also be open. Tickets for the concert which are only available at the door, cost £10 and £8 concessions, with a special £3 ticket for under 18s.
More concerts at Wainsgate
Further concerts in the Wainsgate series include acoustic duo ME and Deboe (5th October), Morecambe's Deep Cabaret (19th October) and a performance-poetry event with Clare Shaw and Ian Humphrys (18th October).
There is further information about all these events plus details about how to get to Wainsgate Chapel at www.wainsgate.co.uk